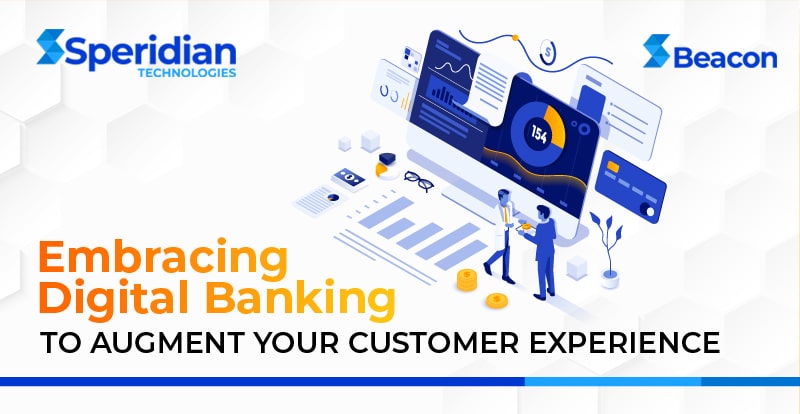 Embracing Digital Banking To Augment Your Customer Experience
Today's leading banks realize the pressing need to become customer-centric. Banks are a pillar of the economy, but all too many of them are stuck in the past, trapped by slow, labor-intensive processes, and paying little thought to the customers they serve.
You do things their way, period. This stifles growth and leaves them burdened with high operating costs. The key to changing this model is to focus on automation and customer experience.
Digital Banking v/s Customer Centricity
Globally, the number of staffed bank branches is declining. This reflects a growing need for digital services and innovative new ways of conducting transactions. Digital Banking is critical for this, allowing banks to do things that both streamline their processes and delight their customers.
At its core, Digital Banking is all about making things flexible. Previously, you needed to submit a paper loan application to a Loan Officer, to be manually reviewed and input into one or more systems during normal banking hours. That is a lot of hurdles.
But with Digital Banking, you can fill out an online form, submit it, and it automatically routes through the necessary back-end processes. This makes the process quick and easy, delighting both bank staff who no longer need to work through data entry and clients who get answers more rapidly.
Easy is at the heart of Customer Centricity. It is making things your clients do simple. In practice, that can be 24×7 access, digital transaction requests, or the ability to schedule a call from an advisor or specialist without having to come into a branch.
If you make things easy for your customers, they will reward you with more business, increased loyalty, and the kind of word of mouth referrals that you cannot buy with advertising.
This perspective is reinforced by independent research. The Collinson Group studied middle-class consumers in the US with the following findings:
47% feel greater loyalty towards banks that know who they are

49% expect a bank to proactively offer suitable products to meet their needs

52% expect loyalty rewards

66% expect reward options that best suits their interests
Utilize your Digital Banking Data patterns to understand your Customer
Each customer's transaction information is pure business gold. It provides insight into their behavior, commitments, financial strength, and more. Proper analytics tools allow banks to use these factors to determine products and services customized to the individual client. Special offers, pre-approved loans, or customized rewards all become possibilities.
Banks can then reach out to the customer as trusted advisors, providing select offers and services based on client behavior. Speridian Technologies' Beacon-Data Analytics Solution is the kind of Business Intelligence Solution (BIS) to help financial institutions leverage their data for these valuable insights.
Formulate a customer-friendly approach while adopting Digital Services
The evidence is clear. The most competitive banks combine Digital Services with a Customer-Centric focus to deliver outsized results. Leaner, faster, and more agile, they are constantly looking for ways to meet the clients' needs.
And by using customer data, they already have insight into what their members want. Advances in technology have now made these tools affordable to even small banks. Now is the time to unleash that power!
References…

Vinod Puliyakote
Vinod Puliyakote has 28 years of experience in building software products in the banking domain with the motto "Do not compromise on Customer satisfaction". 
Vinod is an ISACA member, CISA certified Auditor and ISO 27001 lead auditor.
Get Started.
We can help your business grow with our industry leading technology solutions and services.