Manufacturing is undergoing serious change with the introduction of new technology such as IoT (Internet of things), smart manufacturing, and hyper-personalization.
Data from products, supply chain, sensors, production operations, and enhanced customer listening are augmenting decision making to stay ahead of the competition. 
Speridian helps manufacturers build smarter businesses through automation, helping support enhanced customer interactions, while adhering to the latest trends and innovation related to customer experience. We'll help transform your organization by allowing you to provide improved and informed response to customer demand. 
Our Manufacturing Services
Our
Services
Digital Strategy and Consulting
Speridian's Digital Transformation Consulting merges technology and business strategy in a constantly changing world for manufacturers. Our innovative solutions, deep domain expertise, and well-defined strategies will improve visibility into your business while increasing efficiencies. Our knowledgeable consultants:
Define, design and implement strategies that drive business growth, helping you eliminate defects in supply chain

Develop long-term and short-term strategies to improve asset utilization and decrease COGS by up to 20% 

Assist with uncovering new revenue streams and areas for cost reduction through new market entry and strategy M&A
4
5
App Dev & Modernization/h3>
Avoid application failures or unexpected downtime that can devastate your bottom line.  Speridian's skilled consultants can help you maximize your IT budget with custom-built applications or breathing new life into legacy applications. Our resources assist with:
Work with customers to design Cloud Migration programs
Developing, maintaining and supporting applications that are custom-tailored and compatible with legacy systems
Leveraging best-in-class testing tools for manual and automated testing, helping you avoid crippling outages and data breaches
4
5
Enterprise Mobility
Mobility is changing the way organizations do business, connecting field resources for increased productivity with pertinent information at their fingertips. Speridian helps organizations expand their reach through mobile technology by providing:
Speridian's Mobilize platform boosts productivity and streamlines operations for your customer-facing teams, keeping your resources focused on customer service
A seamless mobile experience across both iOS and Android, boosting productivity for field resources
Hosting and support services for your mobile application to ensure peak performance and security compliance
4
5
IoT & Analytics
Big data and connected devices provide additional opportunities and insights with the right information strategy in place. Speridian provides assistance with:
Aligning business and IT objectives for business led/technology-enabled approach
Implementing tools to help you cleanse and prepare data to uncover hidden correlations and better insights without user intervention
Empowering staff throughout all lines of business to make better decisions based on access to real-time data
4
5
User Experience Optimization
As an extension of your IT resources, Speridian offers a comprehensive portfolio of consultancy, development, and support services.
Leverage our resources to optimize the end user experience:
•Streamlining your customer experience through online self service portal portals and easy to use interfaces.
Proactively monitoring your applications in our secure environment to ensure peak performance and security compliance
L2/L3 support on leading cloud and on-premise applications from Oracle, SAP, and Microsoft
Fine-tuning business objectives across operations, maintenance, configuration, and release management with the help of our dedicated Shared Services Group
4
5
Deep operational and integration experience across manufacturing
Modernize operational processes and applications for increased agility
Reduce high infrastructure costs and streamline operations
Strengthen regulatory compliance efforts and improve application security

Digital Transformation in Manufacturing in Action
Insights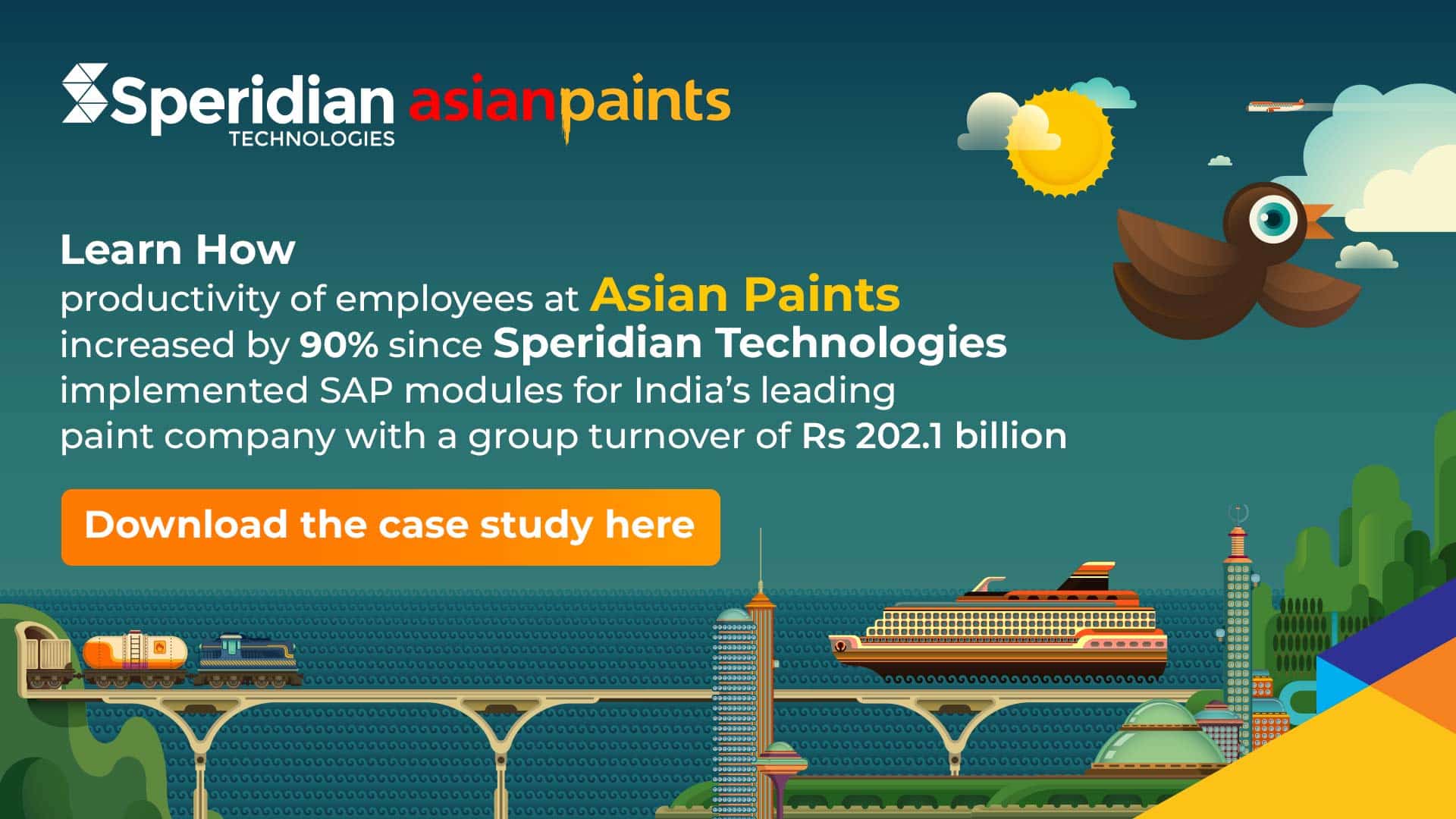 Speridian's business intelligence solution using the SAP SuccessFactors tools helped Asian Paints reduce costs and improve business productivity.
Let's work together on honing your IT machine for maximum output