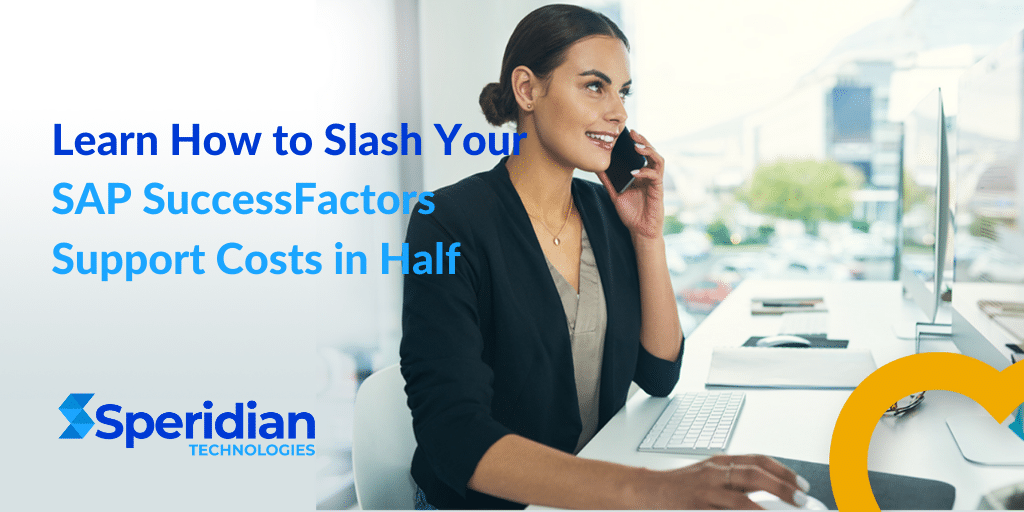 How to Cut Your SAP SuccessFactors Support Costs by More than Half
Deciding whether or not you need a managed services partner to help you manage your SAP SuccessFactors implementation is, in large part, about the money. Of course, an experienced HCM/HXM managed services team that can help you keep up with the on-the-fly dynamic business and regulatory changes that are so often required is clearly a plus. But how much will it cost?
A better, and perhaps surprising, question is: How much can you save? Clearly, since I work at Speridian and want to be able to answer tough questions like this for our customers, I needed to really know the answer to this question, and that led me on a journey that involved a good bit of research to truly discover how much money Speridian Advantage can save SAP SuccessFactors customers over what they are doing now.
 What Does a Typical Organization Spend?
To break this down, we first have to examine what a typical organization spends to support their Human Resources (HR) department's HCM/HXM solution, an important question since personnel are the biggest factor in the total cost of operations. For round numbers, let's say our sample organization has 1,000 employees. According to the AIHR Academy, most businesses average one to 1.2 HR staff members for every 100 employees, so in our sample company, that would mean 10 to 12 full-time equivalent (FTE) HR people on staff. Larger companies may be more efficient and employ fewer staff members, while smaller companies may have an FTE ratio as high as 2.57, but for our more "typical" example, let's say we have 10 to 12 people on staff in the HR department, and those people can range from the Chief People Officer to a VP in charge of HR to administrative assistants.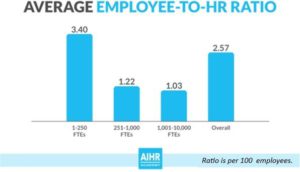 Every day, those 10 to 12 people are using a variety of tools and systems to manage their HR responsibilities, including a benefits system, some sort of payroll system – maybe ADP or Paychex – and other solutions to help with talent searches and applicant tracking, all of which interfaces with the SAP SuccessFactors suite. As a result, someone must support and maintain those systems from both an operational and an IT perspective. How many people does it take to do that? Before we can answer that, we have to determine how many IT people are on staff for the whole organization, then how many of those are dedicated to supporting HR functions.
 The Surprising Cost of HR IT Support
According to industry data, the ratio of IT people to employees in companies that have 500 to 1,000 employees is 1:25, which means, in our sample company, there are about 40 IT people in all. When you look at a typical organization, there are usually four main functions in every business: sales and marketing, finance and accounting, operations (which might include manufacturing, distribution or professional services), and employee management. That means, HR is one of the four major departments to be supported. While there will clearly be some variance in some organizations, this gives us a way to fairly compare the distribution of resources, and in our example company, this means we would have about one-quarter or 10 FTE IT support people who are solely dedicated to HR.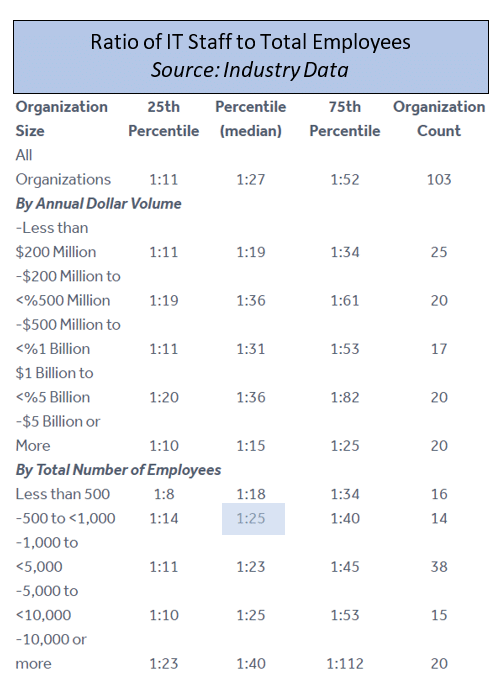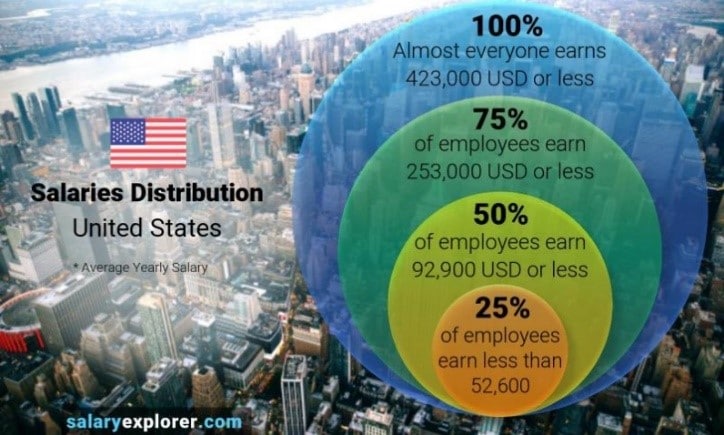 In all, combining the 10 to 12 FTE people who support HR operations and the 10 FTE IT people supporting HR functions, there are about 22 FTE people supporting HR and its systems. According to SalaryExplorer.com, these employees earn an average of $100,000 per person (including benefits like healthcare, 401K matching programs and disability insurance), which means our sample company is spending an estimated $2.2 million per year to support its HR organization and its HRIT systems.
 Is a Consumption-Based Model Better?
Beyond our deep knowledge of both the SuccessFactors technology and the HCM/HXM industry, one of our chief differentiators is our consumption-based, per employee pricing model. We view this as a competitive advantage for our customers, so I wanted to really see what our sample company was spending per employee on HR support costs to better quantify the value we offer.
We know our sample company is spending $2.2 million per year to support its HR organization and its HR IT systems, and we estimated this company has 1,000 employees, so that means, on a monthly basis, it is costing our sample company $183 per month per employee to support its HR department and that department's IT systems, most of which are connected to SAP SuccessFactors or a similar platform. Now, not all of those 22 FTE people are IT people. So, if we want to know the actual IT cost, we can estimate that half of those 22 people (10 to 11 people) are IT support people, and we can effectively halve that $183 per month and call it $91 per month per employee to support our sample company's HR IT systems alone.
Now I'm smiling. Why? Because Speridian can definitely save money for an organization like this. Our per employee cost is in the $40 or less range, less than half the HR IT system support costs our sample company paid before, which means our sample company can save $51 per month per employee ($612,000 per year) simply by partnering with Speridian to support its SAP SuccessFactors platform. Since nearly every IT function in the HR department is either directly or indirectly tied to the SuccessFactors platform, Speridian will actually be supporting the majority of those functions as well, whether that means a user has trouble creating an SAP SuccessFactors dashboard or has an email or desktop phone issue … Speridian supports it all.
 A Significant Cost Savings
By replacing a $91 per month per person cost with a $40 per month cost (cutting just the IT cost alone more than in half), the total cost of HR operations is now also lowered from $183 per month to $132 per month, a $51 per month per employee savings in both instances. And, since Speridian can easily perform 60% to 70% of the total cost of supporting HR operations (which is almost entirely IT related) at significantly less than one-third of the total cost of HR operations, that means our sample company could expand its total workforce by nearly 40% before its HR support costs would equal what it was paying before partnering with us.
 Risk Avoidance Is the Icing on the Cake
Beyond the clearly identifiable cost savings, it's also important to note that partnering with an HCM/HXM expert like Speridian helps companies minimize their risk. Here's a perfect example: The IRS estimates that over 90% of companies are out of COBRA compliance today, and if you're one of them, there are real fees and fines associated with that.
Imagine, for example, you have a 10% reduction in your workforce, which a number of companies have unfortunately experienced as a result of COVID-19 setbacks lately. If you did not set up your COBRA system correctly, you could face significant fines. If those fines are, say $100 per employee per day, and if you have 1,000 employees, then those fines would apply to the 100 employees affected by the mistake. If it takes you 30 days to discover and rectify the mistake, that single incident could cost your firm $300,000 in just one month's time.
Avoiding this kind of risk is the multiplier that makes working with an experienced managed services partner like Speridian an absolute must, particularly when we can provide an all-encompassing consumption-based pricing model that delivers IT support for SAP SuccessFactors at less than half your current cost and provides HR + HR IT support services at significantly less than one-third of the cost you're paying now. That's the Speridian AdvantageTM.
To learn more, listen to a podcast interview with Speridian's SAP SuccessFactors expert, Greg Turner, then explore our Speridian AdvantageTM for SAP SuccessFactors microsite. Got questions? Contact us and let us show you what Speridian AdvantageTM for SAP SuccessFactors can do for you.