Redefine user experience with S3PO, an advanced AI Chatbot for smart workplaces and next-level customer engagement.
S3PO puts your customer at the heart of the business by leveraging the power of Machine Learning and Conversational AI. Designed to amplify interactions, personalize engagement, and strategically automate business queries, S3PO is the smartest addition to any organization. S3PO delivers unparalleled customer experience and employee engagement – anytime, anywhere, overcoming the limitations in manual processes with smarter and more responsive AI solutions.
Care about your Workforce and your Customers?
Conversational AI
S3PO understands natural human conversations with ease, empowered by its built-in advanced machine learning and conversational AI. The exceptional Natural Language Processing, and Natural Language Understanding capabilities of S3PO, enable analysing and responding to employee and customer queries with the highest possible accuracy while engaging like a companion in conversation.
With enterprises increasingly surpassing international borders and business domains, eliminate use of external translators by leveraging S3PO's multilingual capability.
Supervised learning of S3PO enables you to continuously train and upgrade S3PO's extensive vocabulary to scale and deliver superior results in employee and customer engagement.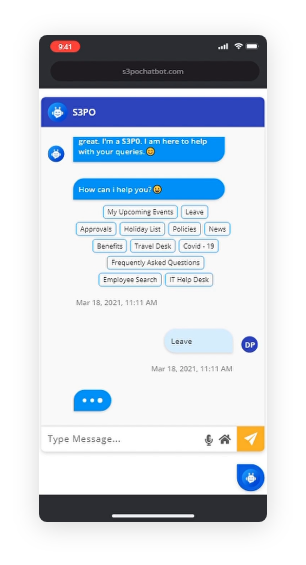 Omnichannel Interaction
Switch across popular collaboration platforms in real-time, including Teams, Slack and WhatsApp, for seamless conversations without missing the essence of conversation and context. Benefit from S3PO's user-centric approach for stronger customer and employee retention, that promises a consistent service without errors, discrepancies and overlaps between channels.
Knowledge Base
Combine artful conversational flow with the option to add new FAQs, to craft the best version of your AI Chatbot. Using S3PO's QnA Builder, create the ultimate knowledge base of highly engaging questions and answers, that humanizes your user's experience.
Connect the QnA Builder to your existing database as well as to an external knowledge base in a structured manner, making it easy for S3PO to fetch and serve the right information.
Continuously nurture and upgrade S3PO's content and knowledge base by incorporating newer, more current queries that optimize your employee and customer journeys. Whether it's in text, image or video form, rest assured that S3PO's sophisticated responses will leave your users in awe.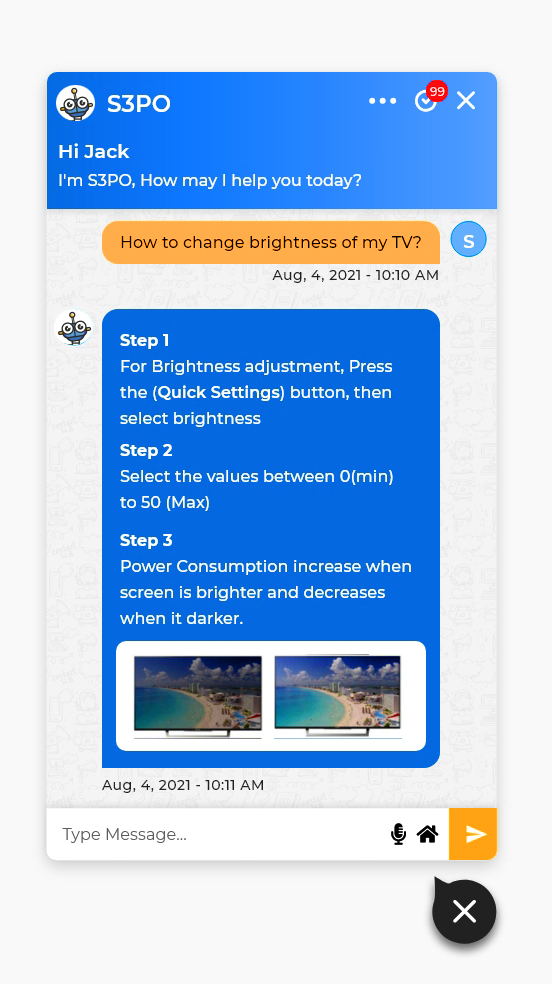 Enterprise Application Integration
Integrate S3PO seamlessly to the backend systems and across platforms providing personalized interaction catered to individual needs.
S3PO addresses all queries at a single central place, creating an excellent unifying experience making it seamless for customers and employees to interact with different systems from one conversation. Available for use on Mobile, Web and, Desktop and many other channels, S3PO is conveniently accessed, even on your employee's personal devices.
Analytics
Build a deeper understanding of your customers and your employees with S3PO's in-built analytics framework. S3PO's enables organizations to dissect, analyse and act on the data through a single console. Continually refine your AI Chatbot strategy by using S3PO's built in metrics analyser and by building new analytical dashboards.
Security
S3PO employs secure development practices, promising superior employee and customer data protection against threats and vulnerabilities. S3PO is compliant with various international privacy laws including GDPR, PDPB, CCPA and supports multi-factor authentication.
Safeguard user details with emphasis on authentication and authorization with Single Sign-On integrated authentication, SSL-secured BOT URL and Web Application Firewall.
Further comply with your organizational security standards by choosing from cloud or on-premise version of S3PO.
Enhance Customer Experience
From automating lead generation and improving the sales funnel, to enhancing customer support and enriching customer experience, S3PO is designed to channel your business efforts towards a well-communicated, secure, and highly efficient operations.
Customer Service: In the experience economy, instant responses are essential to retain your consumer interests. S3PO can help them navigate different parts of the website and play the role of an on-demand customer service representative. Win in every customer-facing situation, without human intervention.
Marketing: Understanding how important lead generation is in the marketing sphere, S3PO gets the right leads in front of the right reps at the right time. Providing an intuitive interaction platform for customers to raise queries, clear doubts and to even initiate businesses, S3PO qualifies leads within seconds and redirects customers to the official business page for faster, better business communication.
Empower Employees
Get rid of organizational silos with automated conversations exclusive to your staff. Promoting high employee engagement, S3PO is the company-wide digital assistant you need, to stay connected.
Operations: Make it easier for dispersed, remote teams to access company policies & procedures, wherever they are, whenever they need it. Let S3PO be the trusted virtual instruction manual and knowledge base your co-workers can lean on, to optimize overall team performance.
Human Resources: S3PO provides the convenience for your employees to get immediate assistance when they fire questions ranging from leave application, employee onboarding, processing routine documentation, transitional periods, and other employees/workspace concerns. Effectively eliminating routine tasks, empower staff to focus on business-critical assignments that add value to your organization.
Sales Assistance: Your customers are not the only ones who need assistance in the buying process. Your sales team especially needs support in addressing complex problems and questions raised by potential clients. Powered by conversational AI, S3PO can quickly search the company database, for recent products and services required by the sales agent. Let S3PO increase the performance and efficiency of your sales team, by equipping them with an intelligent tool, to consistently respond faster and convert leads more quickly.
Live Chat: Enhance the user experience by complementing S3PO with live chat.
Exceptions: S3PO makes a seamless handover to a live agent when an exception occurs ensuring an enhanced user experience.
Supervision: Enable your agents to supervise the chatbot interactions in real time. Agents can intervene and pull – in chats to provide a more personalized experience.
Tagging: Agents have the option to tag client chats and intents that identify business specific needs. This data can then be used for marketing purposes and to make more informed customer service decisions.
Multi Card: Empower your agents further by eliminating the need to toggle between chats. Multi Card view enables the agent to respond to multiple chats from the same page.
Review Board: Supervisor dashboard with real-time statistics of what's happening for real-time monitoring. Giving full visibility and authority to take immediate actions, supervisors can act on direct escalations, abandoned chats, and even notify idle agents of chats waiting in queue.