5 Reasons Why You Should Modernize Siebel
Customer demands are changing as business transactions increasingly take place online. Even before the pandemic, customers began to favor digital experiences that were fast, convenient, and personalized. Even if a customer loves your product or service, one bad customer experience could drive them away from your organization. For this reason, every organization must deliver exceptional customer experiences.
Siebel CRM helps organizations manage customer relationships and optimize business opportunities. However, many organizations are challenged with using a customized, on-premise Siebel CRM which lacks the capabilities required for providing great customer experiences.
A modern CRM offers the functionality to connect sales, marketing, and customer success teams with the data and processes for delivering the experiences customer expect. By modernizing Siebel CRM with an upgrade or cloud solutions, your organization can take advantage of the latest innovation to offer customer experiences that are satisfying and build loyalty.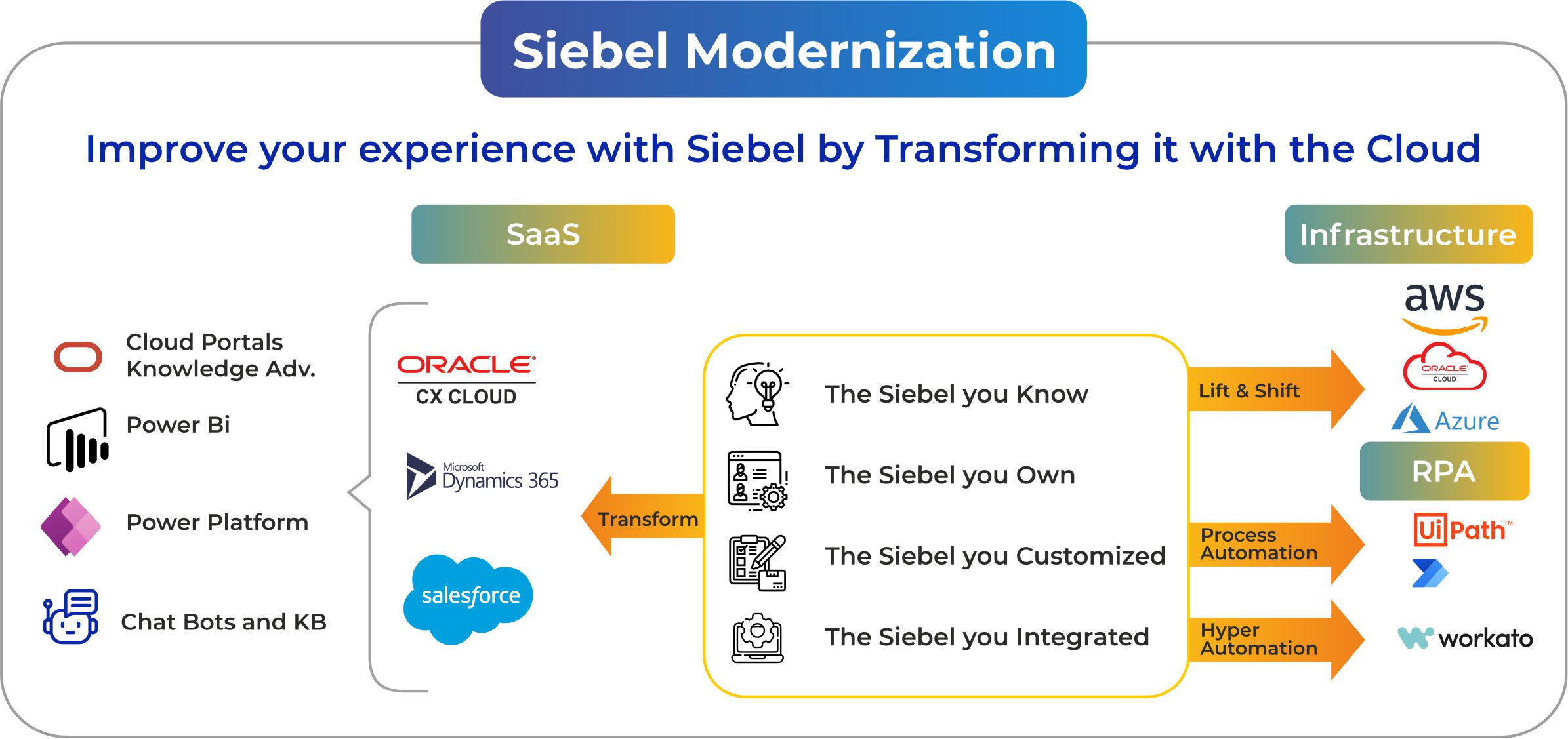 Here are five benefits to Siebel modernization:
1
Adopt customer experience best practices
To keep up with the evolving needs of customers, your organization needs a CRM platform that allows you to adopt customer experience best practices. Best practices include staying connected with emails and newsletters, keeping a record of interactions so you can connect the last customer interaction with the next one, and understanding customer needs to create personalized and targeted content and promotions.
2
Be where your customers are
On-premise Siebel CRM lacks functionality for integrating social media or mobile. Without the ability to communicate with customers on social media or by chat, your organization will miss the opportunity to connect with customers, gather important customer data, and provide good experiences on these channels. With a modern CRM, your organization can provide fast, satisfying service to customers on every channel where they expect to engage with you.
3
Offer cross-channel support
Customers are interacting with your brand across numerous touchpoints, such as websites, mobile, retail, and social media. Your organization should be providing high-quality experiences that are consistent and relevant across all of your channels. Modernizing Siebel CRM can help you unify customer interactions across channels, personalize experiences, and deliver targeted content or promotions to the right customer at the right time.
4
Identify your most important customers
Siebel CRM powered with the latest technology offers not only a centralized location for customer data but analyzing tools to gain insights about your most important customers. The ability to see your customer's history, purchases, and preferences can help your organization match each customer's expectations with the right product or services for a seamless customer experience.
5
Remain agile and responsive during times of disruption
Organizations using heavily customized, on-premise Siebel CRM don't have the functionality to remain agile during business disruptions like the pandemic. To remain agile against changing business conditions and still respond effectively to customer demands, your organization needs to add modern capabilities to Siebel CRM to deliver customer experiences effectively.
Modern CRM is critical to customer experience success
Delivering exceptional customer experiences is critical for your organization to keep up with evolving customer demands. On-premise Siebel CRM can help you manage customer relationships but lacks the functionality you need to understand customers and be where customers like to engage with your organization. By upgrading or enhancing Siebel with cloud solutions, you will have a modern CRM with the latest innovation for offering your customers experiences that are satisfying and build loyalty.
Maximize your Siebel investment by transforming it with the Cloud
Our Siebel experts are here to help achieve your goals.