When businesses struggled to survive the disruption brought by the pandemic, cloud-based services and solutions kept them going. According to a report by Gartner, worldwide spending on public cloud services is forecast to grow 23.1% in 2021 to a total of $332.3 billion, up from $270 billion in 2020. The sudden increase in the adoption of cloud-based technology has resulted in increased demand for cloud application development. With cloud application development, you can develop custom applications that are not only scalable but also help your business remain agile and resilient.
Many businesses are turning to Cloud Application Development for a variety of reasons. Here are some of the benefits of developing custom applications in the cloud.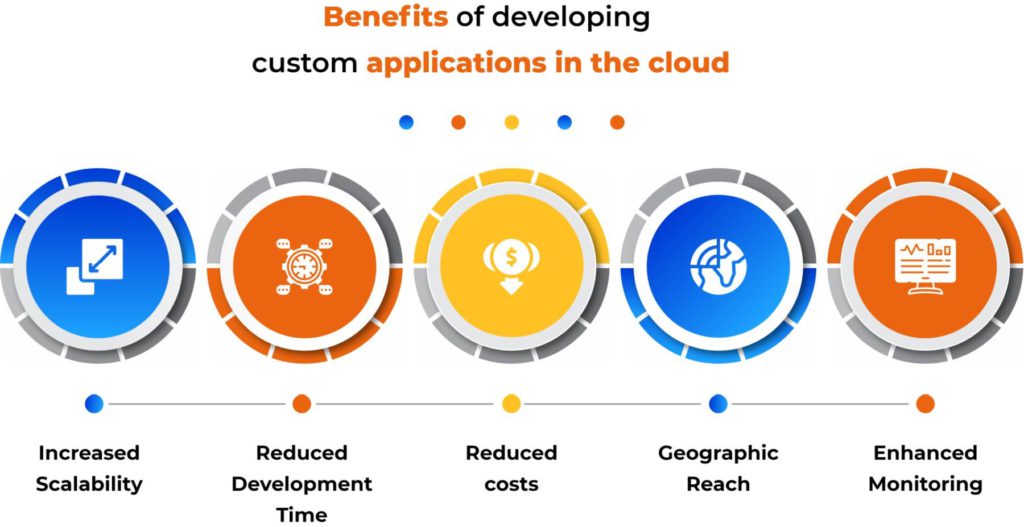 1. Increased Scalability
The most prominent Benefit of Cloud Application Development is the increased scalability that it offers. In the cloud, companies can scale up the processing power and server storage they require to meet growing business demands without disrupting users. For traditional application development, businesses are required to switch the server which can result in disruptions or slowdowns. Thus, in cloud application development, as your business grows, you can add resources to your cloud solution without having to worry about any downtime or performance issues.
2. Reduced Development Time
Time to delivery is a crucial aspect of application development. A delay in development time can lead to increased costs and can potentially affect the business and future scope of the application. Cloud application development may require an initial commitment of time, but the custom application has the potential to save countless hours of work by creating efficiencies and improving processes.
3. Reduced costs
Another main benefit of Cloud Application Development is cost savings. Many cloud-based applications have lower costs than their on-premise counterparts because they may require less hardware and maintenance. For Internet as a Service (IaaS), operating in a virtual environment requires less on-site equipment to maintain, while giving you the benefit of remote monitoring and management. For Platform as a Service (PaaS), resources can be centralized in a single location. With no upfront costs and a pay-as-you-go model, you are only charged for the time and resources that you use.
4. Geographic Reach
Instead of relying on a single geographic location to host your application, the cloud makes it possible to host your cloud application on servers spread across the globe. It enables you to use Content Delivery Networks (CDN) for better cloud application performance. This way you can accelerate application delivery globally and improve the application user experience with faster response and load times.
5. Enhanced Monitoring
A new cloud application requires constant monitoring to ensure any critical performance or security issues that arise are fixed as soon as possible. With cloud application development, you and your IT team will be equipped with tools that help you track and monitor your application performance. These tools provide complete control over the application to quickly respond to errors and bugs. Or, you can work with an application-managed services partner to do the work for you.
Cloud-based services have proven to help businesses remain agile and resilient during the pandemic. With spending on cloud services continuing to grow, cloud application development is a viable option if your business wants a scalable, high-performing application to meet growing business needs.
As a global business and technology solutions provider, Speridian can help you build cloud-based custom applications. Our custom application development services provide strategy, transformation, implementation, and management of any custom or packaged application, easing the burden on your IT resources.