How To Fast-Track Digital Transformation
Digital transformation is no longer a trend, but a critical priority for organizations who want to remain agile in a rapidly evolving digital world. By adopting new technology, organizations can improve operations, create new revenue opportunities, and innovate for the future.
However, digital transformation is an intensive process that requires strategic planning and collaboration across the organization. For a successful change, what are the channels of digital transformation organizations need to focus on?
Digital transformation is an organization-wide endeavor to integrate technology that transforms business processes to optimize performance and achieve better outcomes. There's no magical formula that defines success for digital transformation. But for organizations to successfully transform, they need to focus on four important channels of digital transformation to navigate this complex process.
Channels of Digital Transformation
1. Process Transformation
The goal of business process transformation is to rethink how people work in an organization. Disconnected processes and siloed departments with a lack of collaboration increases the cycle time for any organization, which leads to increased cost of operations, unhappy customers and dissatisfied partners. This also hampers an organization's ability to innovate at a rate that market demands.
According to the IDC FutureScape: Worldwide Digital Transformation 2021 Predictions, IDC predicts by 2022, 70% of organizations will have adopted digital technologies that transform business processes to drive customer engagement, employee productivity, and business resiliency.
However, oorganizations embarking on digital transformation should first optimize and transform their business processes before applying any new technology to these processes. Antiquated processes wrapped in modern digital tools are only half transformed and fifty percent efficient.
2. Cultural Transformation
Digital transformation isn't just about optimizing processes and adopting new technology. It's also about connecting people involved within and outside the organization to adopt the new solutions and processes to drive the changes.
Baker McKenzie's 2021/2022 Digital Transformation & Cloud Survey: A Wave of Change report noted that 58% of the organizations surveyed anticipated making improvements in employee engagement and culture, recognizing the importance of investing in both technology and people during the digital transformation process.
For digital transformation to be successful, a fundamental cultural change needs to take place at all levels of an organization. The key to success is including people at the beginning of the process as stakeholders and collaborators to ensure everyone understands the purpose and benefit of implementing change. Without including people in the digital transformation process, companies will continue to fail.
3. Data Transformation
Data is the new oil in today's economy. How that oil (data) is drilled and stored becomes a key factor for growth and innovation. Organizations need to have ready access to their data at all levels to thoroughly understand their business and make informed transformation decisions. As the saying goes, "if you cannot measure it, you cannot improve it", companies need to ensure first data is being collected at all levels of the organization. That data collection process also needs to be automatic and in real-time.
Once an organization has established that collection process there are plethora of technologies available to make meaning of that data. Starting from reports, metrics, and KPIs all the way to machine learning and artificial intelligence, data is the common denominator.
The Fujitsu Global Digital Transformation Survey Report 2021 says 83% of survey respondents agree with the importance of data-driven management to remain competitive.
Mature companies not only collect data, but they also enable the data flow across the boundaries of internal departments and systems. Data transformation is transforming the organization to be a "data-driven" company.
4. Experience Transformation
Experience transformation is often assumed to be about customer experience transformation, but it is not the only one. For an organization to fully leverage the benefits of digital transformation, business leaders have to think about experience transformation for all of the stakeholders the business process touches in the journey, e.g. employee experience and vendor experience transformation.
Many companies make the mistake of upgrading their customer-facing technologies leaving employees and vendors with older back-end technologies. The resulting customer experience is far from digital. Today, customers expect digital experiences that are personalized, real-time, omnichannel and available 24/7. That is only possible if experience transformation is designed combining "inside-out" and "outside-in" drivers.
One size doesn't fit all
By no means, the four channels described above are the only channels for digital transformation. There are other channels and sub-channels. For example, technology transformation can be a separate channel. Companies with matured processes may go directly into technology transformation or upgrades. Or companies with fairly established data departments may invest in specific data transformation programs like data governance, master data management, and big data analytics. Digital transformation is a highly customizable discipline that needs to be tailored to the needs of the organization.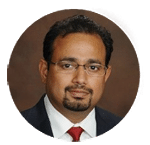 Sourav Roy
Vice President – Digital Solutions
Roy is the Vice President of Digital Solutions at Speridian Technologies. In this role, Roy sets the strategic direction of the business unit, promotes Speridian's client-first culture and focuses on creating sustainable growth by bringing together the industry's leading technology trends, capabilities, solutions, partnerships, and subject matter expertise into a single integrated unit. Roy is an experienced technology executive with 22 years in consulting, with a proven track record of building business and driving inside driven digital transformation through focused execution.