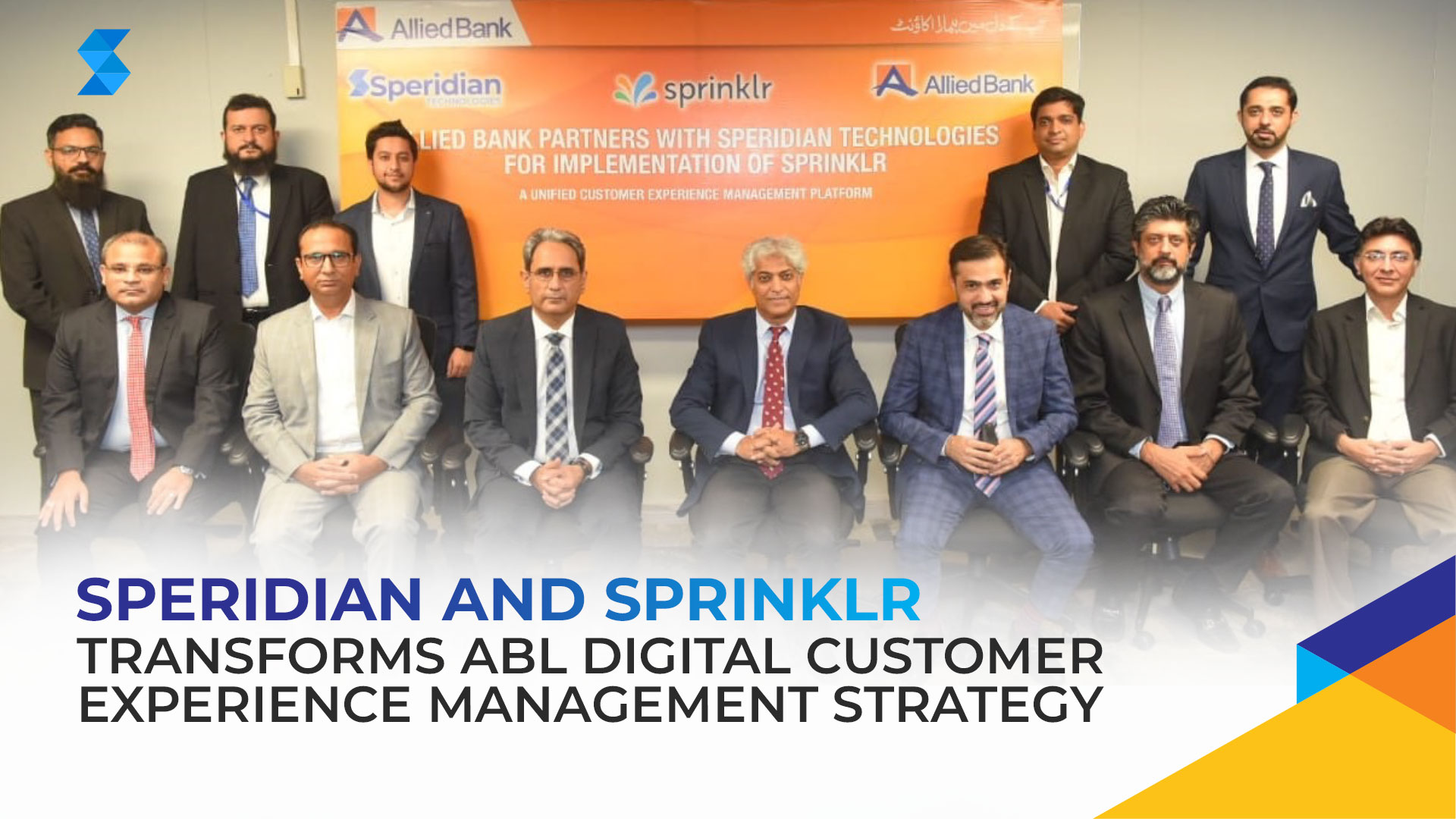 LAHORE: Allied Bank Ltd. (ABL) announced its selection of Sprinklr, a unified customer experience management platform (Unified-CXM). Sprinklr partner Speridian Technologies will help ABL implement Sprinklr's unified software platform — specifically Sprinklr Modern Research, Sprinklr Modern Care and Modern Engagement across the company. ABL is the first bank in Pakistan to use Sprinklr across all of its digital communication channels such as Facebook, Instagram, Twitter, YouTube, LinkedIn, and App Stores – creating a unified process for reaching, engaging, and listening to customers.
The signing of the agreement was attended by senior management of ABL and Speridian.
Over the past year, ABL has experienced an increasing number of customers asking various questions and making comments across social media and messaging channels. As a result, the company is looking up to Sprinklr's Unified-CXM platform to help it connect with customers in a human and personalized manner on ABL's digital channels. Sprinklr offers a customized AI-powered software platform to help ABL transform its social media and digital customer experience and gain critical customer insights.
Sprinklr is currently managing all of ABL's social media channels and helping them listen and engage with customers on Google Play Store so that they can make continuous improvements to their mobile app offering – myABL Digital Banking.
Comments on the news:
"Allied Bank understands the power of digital to transform the customer experience. We are consistently focused on optimizing our customer journey across all of our digital touchpoints. Sprinklr will empower us to provide a seamless digital experience and gather essential insights from across digital channels," said Mr. Sohail Aziz, Chief Digital Banking at ABL.
"By embracing digitization banks can provide enhanced customer services which in turn builds customer loyalty. Despite the pandemic, Allied Bank has not stopped investing in newer technologies which definitely gives them an edge over their competition. Sprinklr platform will give ABL a single, in-depth, unified view of social data to get a more complete picture of the business and how social is affecting it. Speridian considers itself as very fortunate to be associated with them in this digitization journey. said Mr. Shahzad Akbani, Regional Director MEA, Speridian Technologies.
"As more customers reach out to banks on digital channels, the financial services industry needs personal, compliant, and efficient ways to deepen customer relationships," said Kris Wood, Senior Vice President of EMEA, Sprinklr. "We're thrilled to help Allied Bank improve its efficiency with automation and AI – freeing up their time to exceed customer expectations with personalized marketing and engagement."
About Allied Bank Ltd. (ABL):
Allied Bank is one of the largest Bank in Pakistan with an extensive customer base of over 5 million+, an outreach of 1400+ branches and 1560+ ATMs and operating in corporate, commercial, retail and consumer banking services. The Bank is persistently investing in technological solutions for providing digital financial services to all customer segments.
For more information, visit: www.abl.com
About Sprinklr
Sprinklr is a leading enterprise software company for all customer-facing functions. With advanced AI, Sprinklr's unified customer experience management (Unified-CXM) platform helps companies deliver human experiences to every customer, every time, across any modern channel. Headquartered in New York City with employees around the world, Sprinklr works with more than 1,000 of the world's most valuable enterprises — global brands like Microsoft, P&G, Samsung and more than 50% of the Fortune 100.
About Speridian Technologies
Speridian Technologies, headquartered in Albuquerque, USA, is a global IT solutions and consulting company. It is an expert in digitization and business modernization. It holds years of experience in delivering Customer Experience solutions. With a global workforce of 1500+ talented minds in over 6 countries and 21 offices globally, Speridian has served 300+ customers since 2003. Speridian's Next-Gen Solutions Practice combines robotic process automation (RPA), machine learning (ML), predictive analytics, natural language processing (NLP), business rules automation (BRMS), and workflow management to be at the cutting edge of digital ops and digital process automation. www.speridian.com