Salesforce is a powerful cloud-based CRM that provides tools for sales, marketing, and customer service for businesses of all sizes. But all of these robust Salesforce features to transform and streamline your business processes will only work to their full potential when the implementation follows the best practices.
Implementing Salesforce can get tricky sometimes. Not properly planning for your Salesforce implementation can result in the need to fix costly and time-consuming issues with the system afterward. Working with a Salesforce professional ensures you can achieve all of your business goals and get the most value from Salesforce.
There are many mistakes that organizations make when implementing Salesforce in 2023 and we want to help you avoid them. This blog post will give you five tips for a smooth implementation process.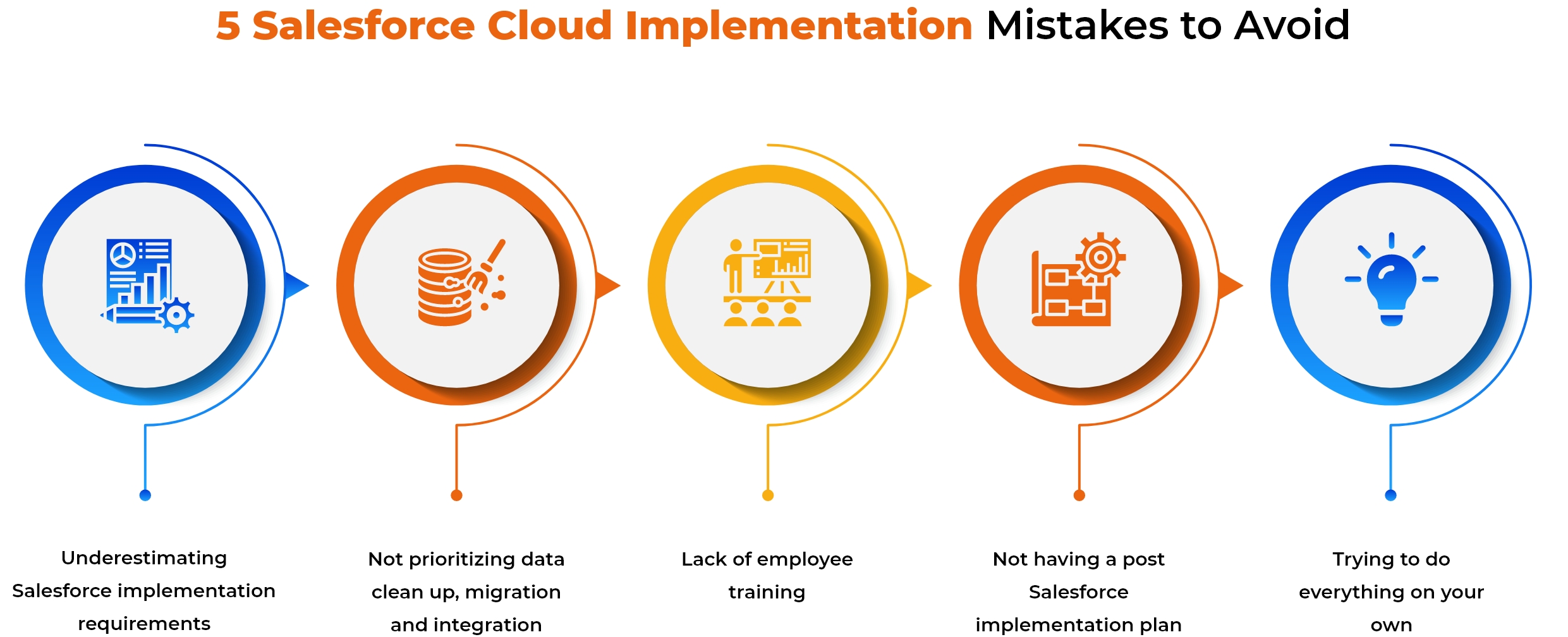 1. Underestimating Salesforce implementation requirements
Understanding what problems need to be solved and what your organization needs to work better will help you stay on track for a successful Salesforce implementation. Many organizations fail to understand that it takes many resources to implement a highly customized Salesforce solution. This is why a devoted team of specialized Salesforce professionals can help your implementation be more effective. They can help you build and customize Salesforce to automate processes and workflows for driving better outcomes.
2. Not prioritizing data clean up
Often Salesforce implementation teams focus on the new features, leaving data clean up and integration as a low-priority task. In reality, this move might cause delays during implementation. Duplicate or dirty data in your system will lead to incorrect forecasts and insights that will confuse your sales team and cause unnecessary downtime to resolve. Working with a Salesforce professional can ensure data auditing and clean-up is addressed before implementation to achieve the best results.
3. Lack of employee training
A successful Salesforce implementation depends on adequate employee training. Salesforce is a powerful solution, but you won't capitalize on the benefits if users don't know how to use the system. Make sure that your employees receive proper training and are familiar with all of the latest Salesforce features. Conducting online sessions, in-person events, and providing Salesforce training videos will help employees understand how they can use the system for their day-to-day tasks.
4. Not having a post Salesforce implementation plan
This is one of the most common Salesforce Cloud Implementation mistakes that might hamper your organization's success. Most organizations tend to think that when Salesforce is implemented, it will run successfully on its own. But post-implementation plans are crucial for long-term success. After implementation, appointing an administrator who can continuously monitor and ensure that data remains clean and users are adopting the system is vital. 
5. Trying to do everything on your own
Salesforce is marketed as an out-of-the-box CRM, but realistically you need the right expertise to build Salesforce to meet your organization's unique needs. Trying to do everything on your own with an in-house team might not help you get the results you want. Even if your organization is already using Salesforce, you need an experienced partner like Speridian to provide advice and support for an implementation or upgrade.
Avoiding some of the most common Salesforce Cloud Implementation mistakes ensures you can get your Salesforce cloud environment up and running smoothly. If your organization is planning to take full advantage of Salesforce's powerful features, it needs to be implemented correctly by qualified professionals, and being a Salesforce Consulting Partner, Speridian can help. Our Salesforce managed services offer fully customized Salesforce Cloud implementation services to help you accelerate your sales and improve your process and workflow.