Salesforce is a powerful tool for sales and marketing teams. In fact, it's so popular that in 2021 it ranked as the number one CRM by G2 Crowd with an average score of 4.2 out of 5 stars! But how do you know Salesforce, with its Salesforce Sales Cloud and a host of other integrated solutions, is the right CRM for your sales team? Here are five ways Salesforce can boost your effectiveness and drive revenue for your business: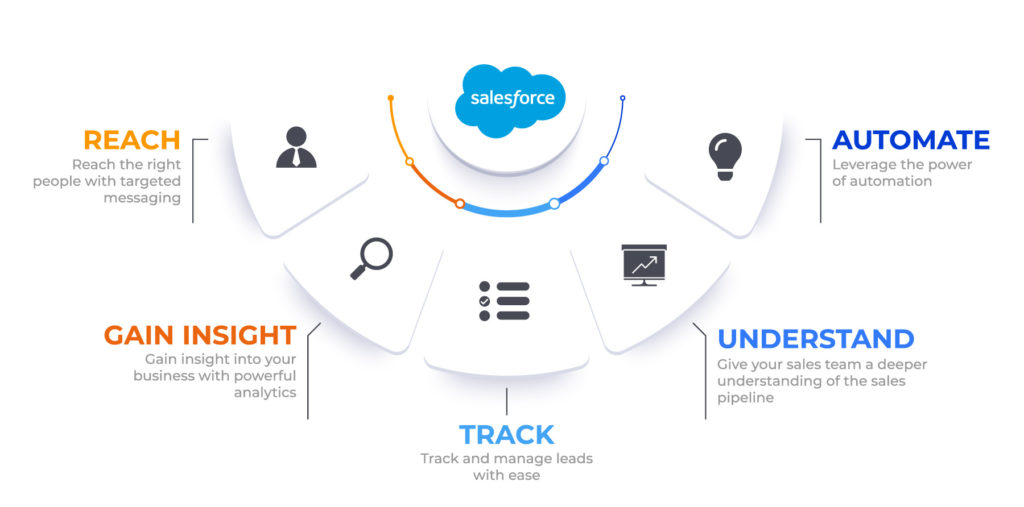 1. Reach the right people with targeted messaging
Salesforce has targeting features that make it easy to send the right message to the right person at the right time. Einstein-enabled insights help you understand customer developments and the impact on their business in real-time. You can use these insights to craft messages that strengthen relationships, prioritize leads, cases, and campaigns to keep opportunities on the right track. Targeted marketing is a proven method for greater engagement and conversion rates with prospects.
2. Using Salesforce analytics to gain insight into your business and increase effectiveness
Salesforce unlocks important data insights into how your business is performing and what needs improvement. Dashboards and reporting tools help you visualize business performance to see where you should focus. No matter what part of your company you're looking at, Salesforce has tools for understanding your business, sharing information, and making better data-driven decisions.
3. Track and manage leads with ease
Salesforce Sales Cloud – a part of the Salesforce cloud solution, helps you manage the sales pipeline and stay on top of leads. You can track leads from initial contact right up to the closing of a successful deal. Once the lead closes, Quip, a collaboration tool that Salesforce offers, stores discovery questions and templates for future reference. You can also find all of the details and communication related to an opportunity for easier collaboration and handover meetings with other company teams.
4. Give your sales team a deeper understanding of the sales pipeline
Salesforce makes it easy to monitor the sales pipeline and view how sales are progressing. You can adjust sales strategies for effectiveness and optimize opportunities at every stage of the life cycle. Tracking in Salesforce goes a level deeper by giving sales reps access to Lightning Console, a command center that shows open deals, performance, Chatter mentions, and activity history to help them target and close opportunities faster, thus increasing their effectiveness.
5. Leverage the power of automation in Salesforce to increase effectiveness
Salesforce automates repetitive tasks to save more time out of your busy day. Salesforce Inbox integrates with your email and allows you to schedule emails for sending at a predetermined time with a calendar link so prospects can easily schedule a meeting with you. Whether it's sending follow-up emails or scheduling marketing campaigns from predefined email templates, automated tasks in Salesforce will free up time so that you can focus on revenue-generating activities.
As the most popular CRM on the market, Salesforce is an effective tool for boosting the sales and marketing activities of your business. The five benefits outlined can get you started thinking about Salesforce effectiveness and how features like automation or targeted marketing can improve sales and drive revenue growth for your business.
---
As a full-service Salesforce Consulting Partner, from strategy to implementation to support service, Speridian has the depth of experience with Salesforce Managed Services. We work closely with our customers to help them choose the right mix of Salesforce technology to meet their business needs successfully. Whether you are thinking of starting your Salesforce adoption process or are currently in any other stages of salesforce implementation/migration, you can count on our end-to-end salesforce cloud services to solve your biggest customer experience challenges.