Salesforce is a cloud-based CRM designed to simplify the way businesses manage their customer relationships. It can help your organization with lead management, invoice processing, account management, customer support, and more with an all-in-one solution. With Salesforce dashboards, the Salesforce platform also provides minute-to-minute visibility and insights into how your business is performing.
You can create custom dashboards that will help you analyze, visualize and generate reports from real-time data. With so many different Salesforce dashboards available, it can be hard to decide which one will provide the data insights you need.
Here is a list of seven dashboards that provides insight into every aspect of your organization — from marketing to sales and everything in between. Check them out below: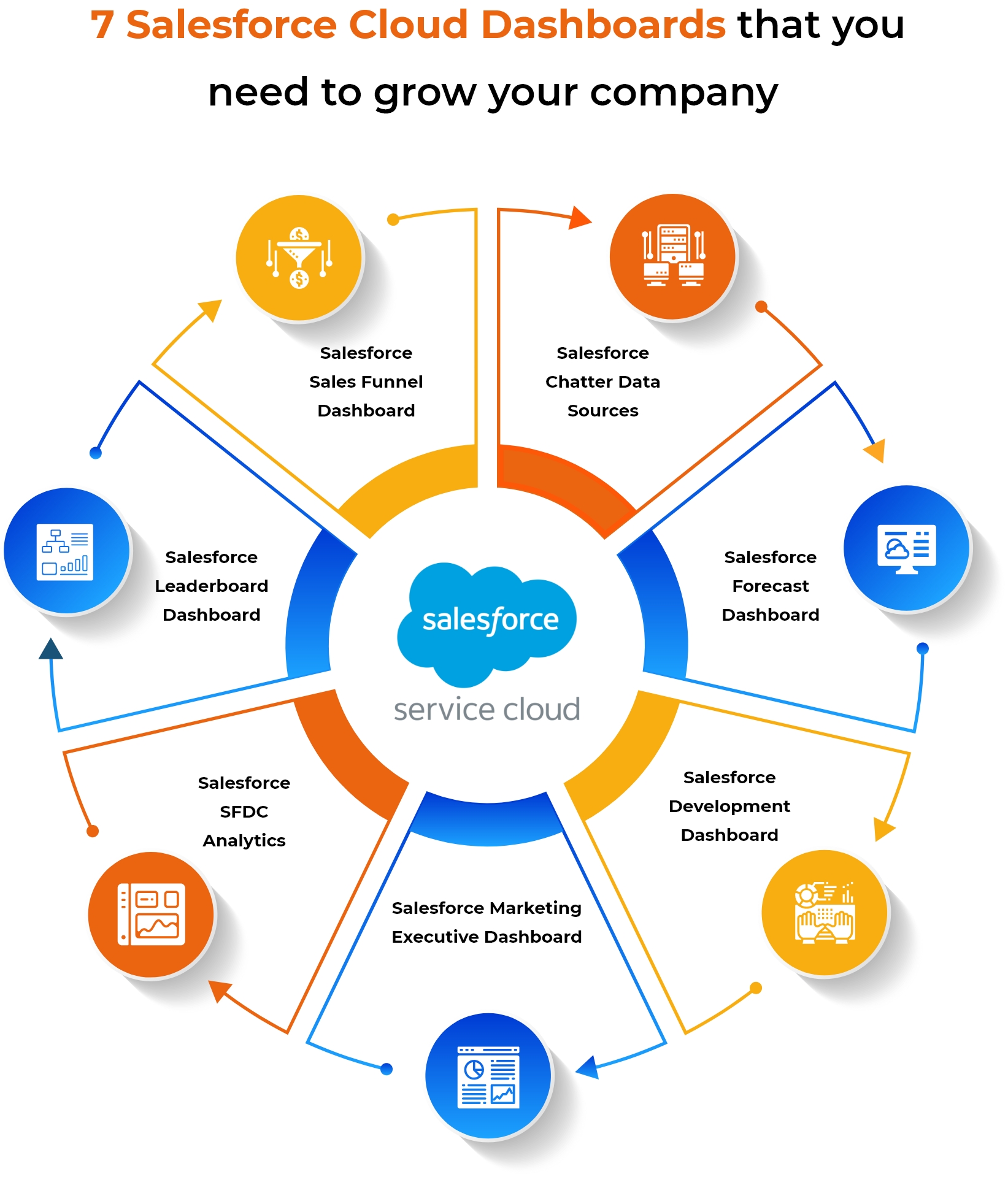 1. Salesforce Leaderboard Dashboard
The Salesforce Leaderboard dashboard can motivate your sales employees with a competitive spirit. The dashboard displays the current top sales rep by revenue, won opportunities by revenue, and more. It empowers the sales team to focus on sales performance.
2. Salesforce Sales Funnel Dashboard
To understand how your sales organization is doing at various stages of the process — prospect stage, investigation stage, negotiation stage, and conversion — this dashboard gives a complete overview of each sale in the funnel. You can use this information to track sales and know whether the value of prospects in the pipeline will meet the forecasts.
3. Salesforce Chatter Data Sources
If you're looking for an easy way to monitor the internal use of Chatter, this Salesforce dashboard can show you. Review data points like Chatter posts and updates to help you stay on top of use and adoption within Salesforce.
4. Salesforce Forecast Dashboard
The Salesforce Forecast dashboard allows your organization to get a clear picture of the sales forecast for the quarter and track whether you are meeting targets. The key focus areas of this dashboard are sales quotas and quota attainment rates. It uses multiple underlying reports and generates a comprehensive dashboard sales forecast.
5. Salesforce Development Dashboard
This dashboard is perfect for those who are responsible for designing and deploying new features within Salesforce because it lets them see everything related to the project without having to navigate through different tabs or screens.
6. Salesforce Marketing Executive Dashboard
The Marketing Executive dashboard in Salesforce Sales Cloud helps the marketing team keep track of marketing activities. They can analyze the impact of campaigns in generating and converting leads. Reports available from the dashboard include lead, sales, inventory levels, and billing status.
7. Salesforce SFDC Analytics
For a better understanding of business performance, this dashboard details how well each product category is performing while also highlighting areas that need improvement so that you know where to focus next.
Salesforce Dashboards allow your organization to deep-dive into real-time data to analyze, visualize, and obtain reports to understand the organization's business performance. You can monitor activities across the organization to grow your company successfully.
If you want to utilize the full potential of Salesforce Cloud with custom solutions for your organizational needs, Speridian can help. With an enthusiastic team of Salesforce Cloud experts, Speridian helps our global clients achieve success with Salesforce managed services. From strategy to implementation to support service, being a Salesforce Consulting Partner, Speridian has the depth of experience with Salesforce solutions.