SharePoint 2013 is now officially End-of-Life (EOL). This would entail that Microsoft will no longer issue security updates or general support for this version. We'll discuss how this impacts SharePoint 2013 customers in this blog post and what remedial steps they can take to make the transition smooth.
First, it's critical to comprehend the effects of EOL. SharePoint 2013 will still function, but Microsoft will no longer provide updates or support for it. This implies that any defects or security holes won't get patched, putting your environment in danger. Furthermore, Microsoft will no longer offer design updates or non-security hotfixes for SharePoint 2013. It may affect your site's functioning and restrict your capacity to customize.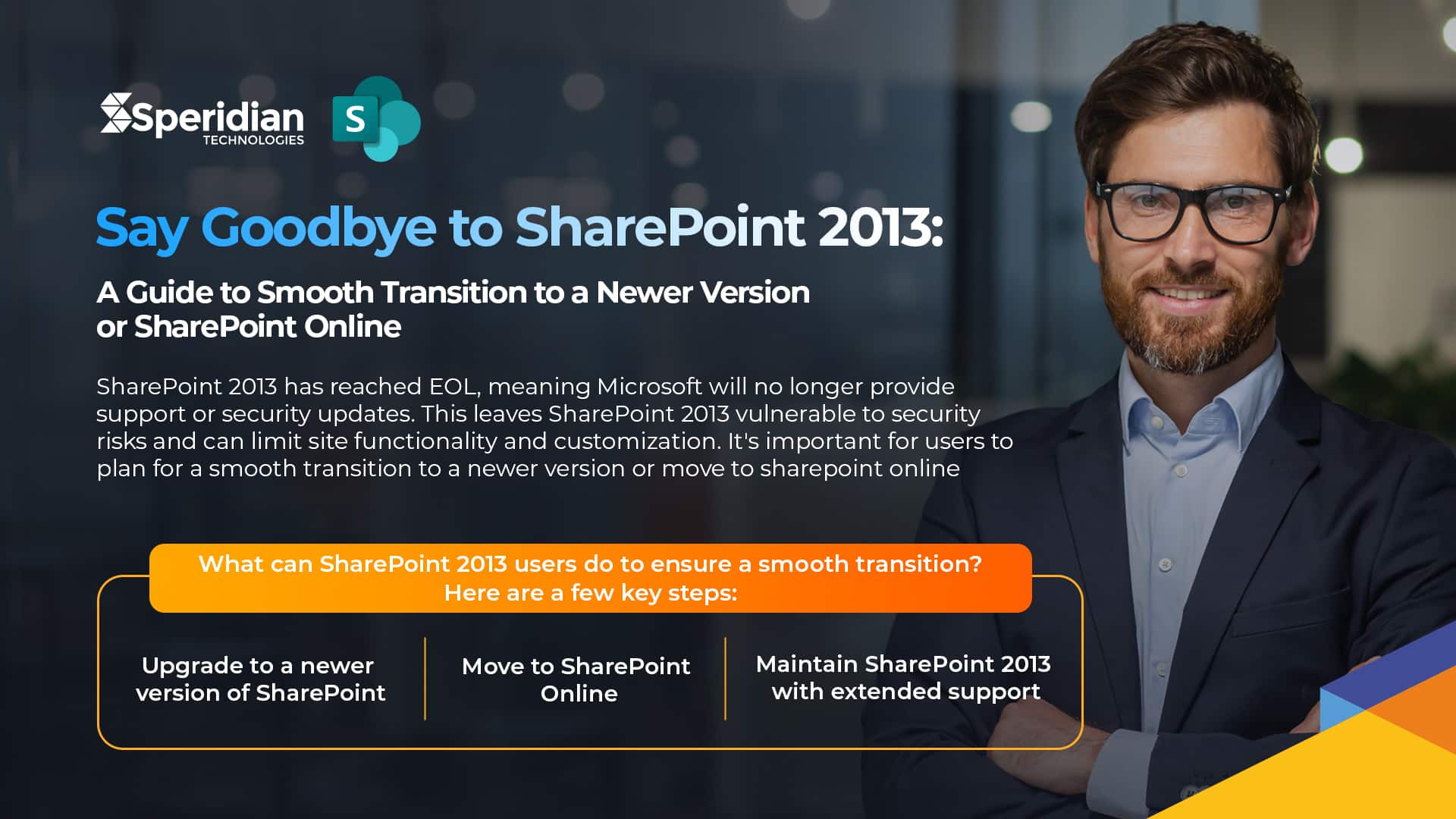 1. Upgrade to a newer version of SharePoint: Upgrading to a newer version of SharePoint is the easiest approach. Both SharePoint 2016 and SharePoint 2019 are choices that the customer can opt for, and both provide increased security, improved functionality, and ongoing Microsoft support. It's crucial to work with a SharePoint expert to help you navigate the process of upgrading to a newer version of SharePoint because it can be a complicated procedure.

2. Transfer to SharePoint Online: Moving your SharePoint environment to SharePoint Online, a component of the Microsoft 365 package, is another choice customers have. Numerous advantages come with this cloud-based solution, such as automated upgrades, improved security, and access to the most recent features and functionalities. Working with a partner who can assist you in planning and carrying out the migration is vital since switching to SharePoint Online involves unique skill sets and knowledge.

3. Keep SharePoint 2013 up to speed with extended support: Microsoft offers extended support for SharePoint 2013, which consists of security updates and non-security hotfixes. This is a temporary fix, it's vital to remember that additional help has a price and is only offered for a short period. This choice ought to be taken into account as a temporary solution while you organise and carry out a migration to a more recent version of SharePoint or SharePoint Online.
As a result of SharePoint 2013's End-of-Life, users should think about upgrading to a more recent version of the software or switching to SharePoint Online. While engaging with an expert SharePoint consultant can help assure a smooth transition and provide you access to the most recent features and better security that Microsoft has to offer, this process can be complicated.