Your Transformational Journey to Cloud
Simplify your Cloud Migrations with Speridian's Tested Three-Phased Approach
---
When thinking about cloud computing, it's not a question of if you should migrate, but when—and more importantly, how. Fortunately, you don't need to try eating the whole elephant at once, or spend hours scratching your head on where to start to minimize business disruption and mitigate risk.
Speridian, your trusted cloud partner, has experience across multiple industries and migration types, and has figured out a winning formula to get you to the cloud quickly and cost effectively. With a three-phased approach, our cloud experts will help you build a public, private or hybrid cloud that suits your business needs, helping you leverage best-in-class technology that will support your growth and innovation goals for years to come. Below is a guide detailing the Speridian way to help you finally achieve your digital transformation and cloud computing goals.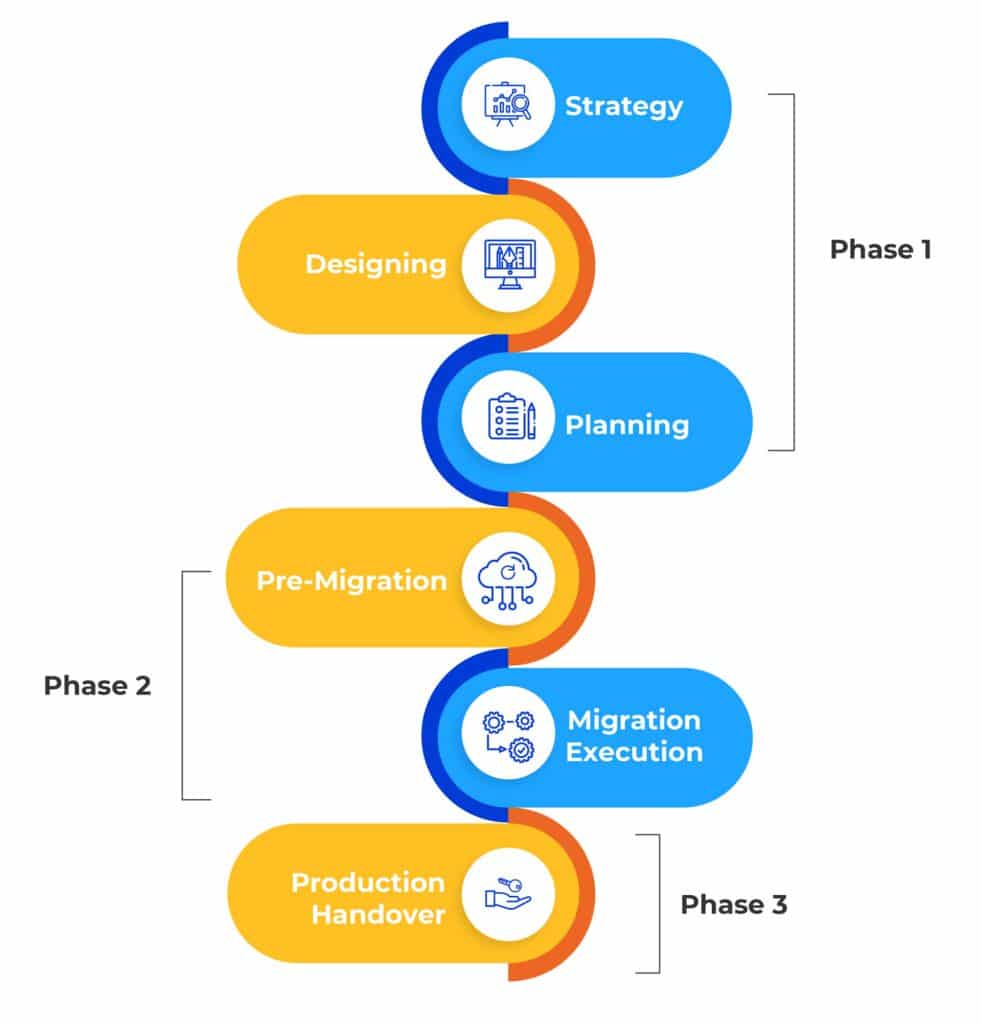 Phase One
Strategy
Speridian's expert consulting team will work with your resources to conduct a cloud readiness assessment. Once we analyze our findings, we'll choose the right cloud service and infrastructure model, either public, private or a hybrid-model, that supports your business needs. We'll also crunch some numbers on costs and savings by migrating to cloud, helping build your case to finally make the leap.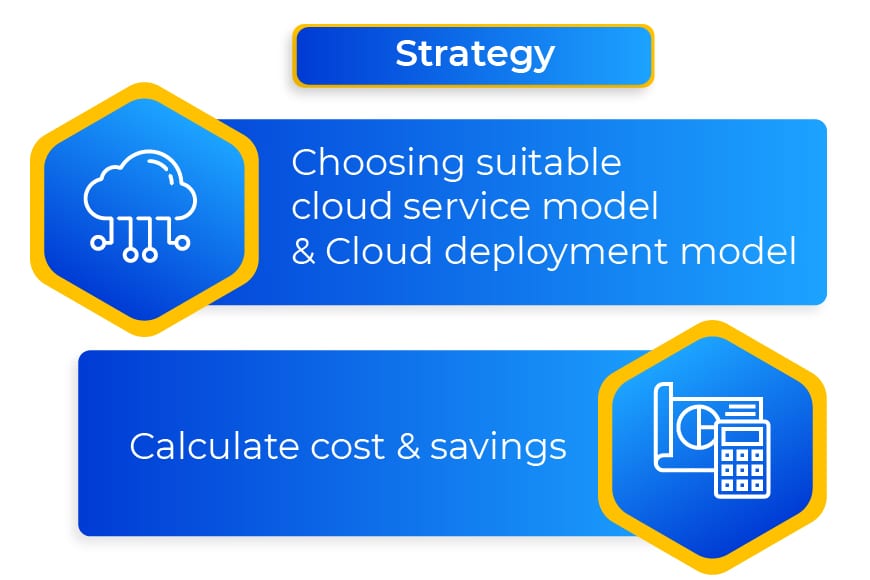 Planning
By analyzing our findings during the cloud readiness assessment, we'll work together to plan out plot points along your journey to cloud. We'll take into consideration your entire application portfolio and workloads, including:
Business Consideration
Application Lifecycle
Application Architecture
Data considerations
Technology and Security considerations
Integration points
Once we've got a lay of the land, so to speak, we'll map out the entire journey and build a business case based on impact analysis while providing cost-savings analysis for additional organizational buy-in.
Design
Once we've got our map, we'll design and develop the cloud technical backbone and infrastructure to support your business goals. We'll determine our exact approach in each phase of the rollout based on resources and skill availability, and account for:
Security
Monitoring
Integration
Management
Scalability
Availability
Backup
We'll work together to address any security and privacy requirements while also helping you adopt a flexible integration model for ease of maintenance. From there, we'll work on scheduling rollouts that maximize available resources and minimize business disruption.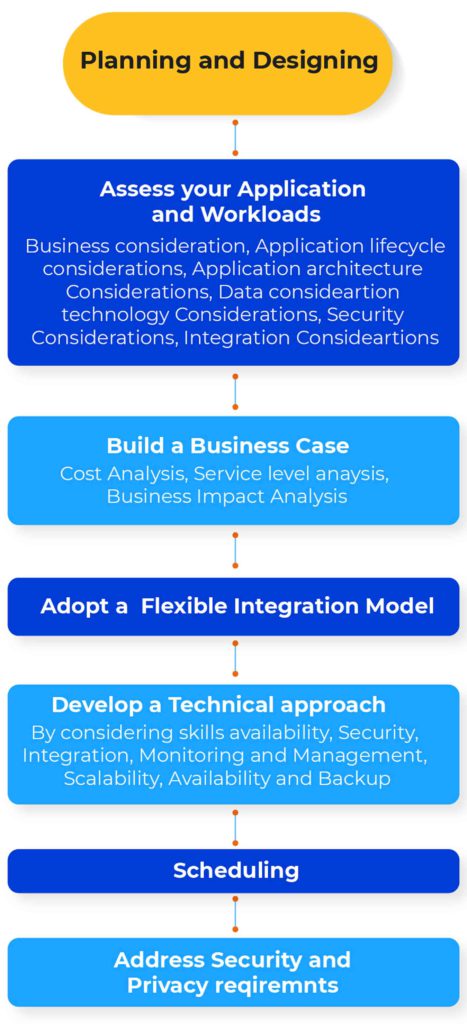 Phase Two
Pre-Migration
Before moving forward on implementing the roadmap, we stress the importance of sharing your vision of digital transformation with the rest of your organization. Communication to other lines of business on why migrating to cloud is important to meet strategic company goals and how it will positively impact their daily operations is critical to make the transition as smooth as possible. While gaining the buy-in from the organization, we'll work with your technical staff to identify roles and responsibilities, including a checklist of questions to be answered, such as:
How many accounts should you have?
Who will have access to what?
How will access be granted?
We'll also determine who will be designated trainers and change agents on the new systems, and who can help publicize the available training to other lines of business to help them achieve a comfort level with the new technology.
By looking at the roadmap, we'll outline key processes and areas that may need to be modified or revamped, including the operational tools that will assist with every step of the journey. We'll utilize discovery tools to ensure we don't miss any dependencies and assist in quantifying success of a cloud rollout.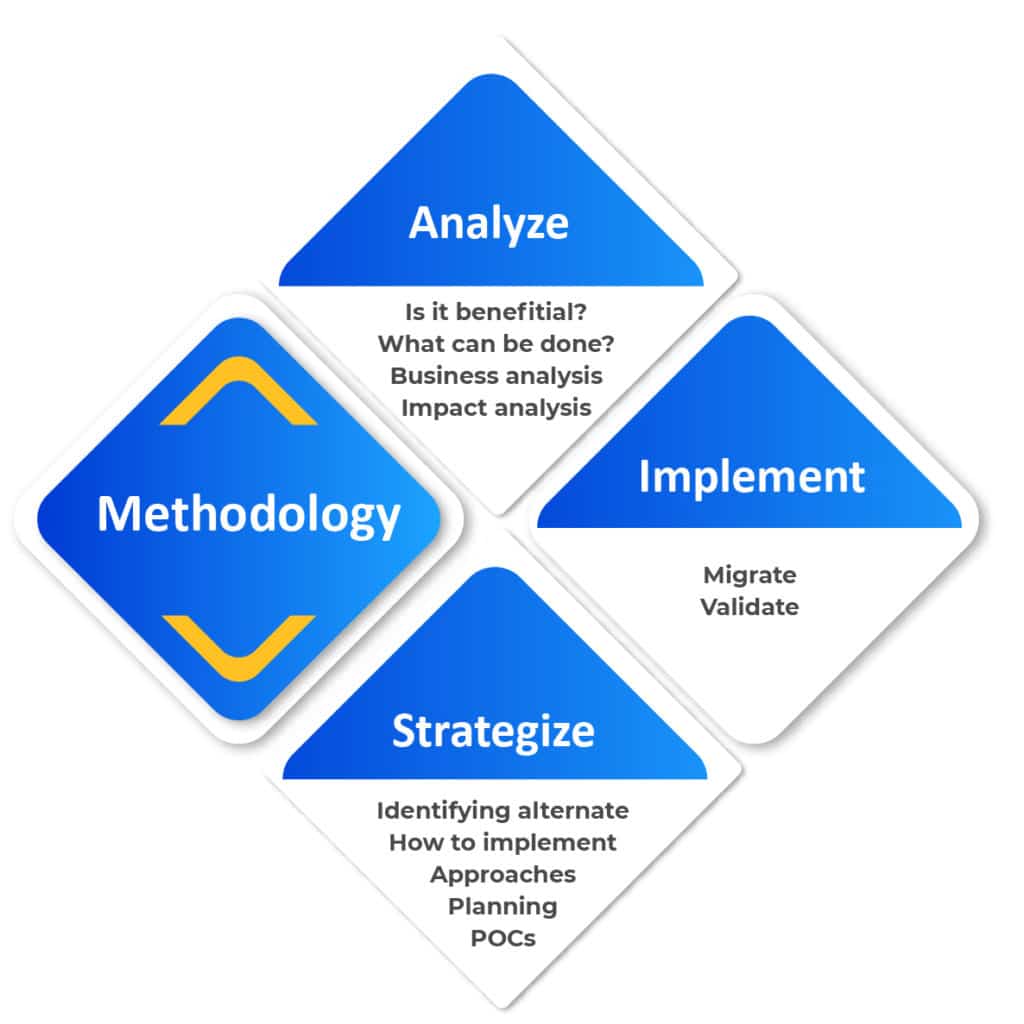 Migration Execution
Where all our careful planning starts coming together. We'll use a pre-production environment to provision and configure the new environment, putting it through rigorous testing and ensuring backups are configured correctly to ensure it's ready for go-live. Once it meets our agreed upon requirements, including successful integration with external applications and datapoints, we'll migrate the relevant data and set up the application in the new environment. We'll invite business users to start transitioning over and putting the new system through additional beta testing before signing off that it meets their functionality requirements.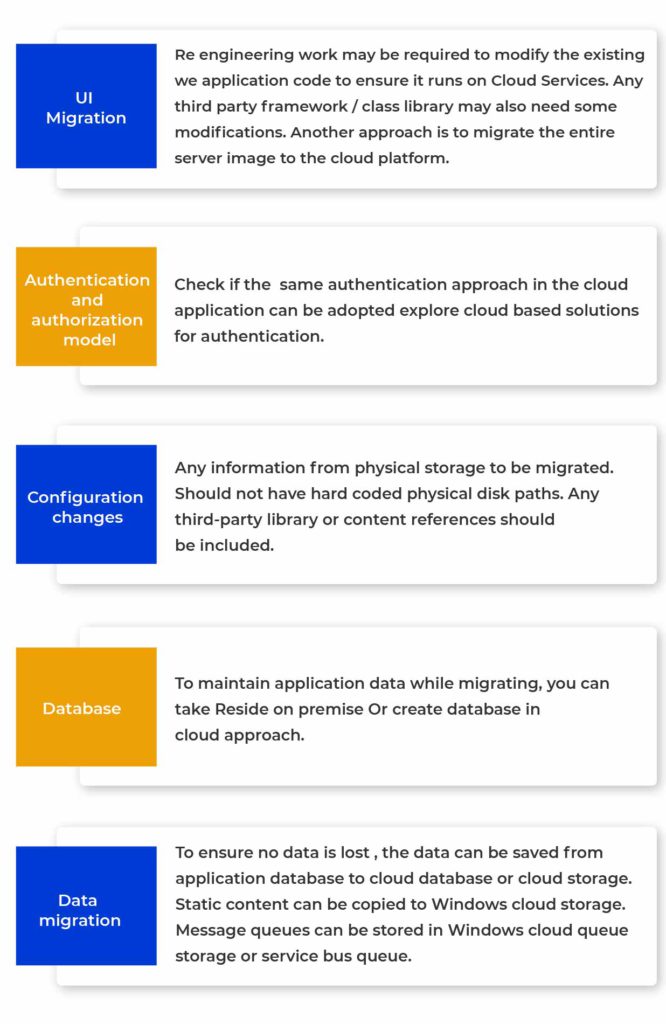 Phase Three
Production Handover
Once the new system checks all boxes, we'll port production data into the new cloud environment and conduct additional post-migration testing to help identify any areas that still need tweaking or improvement. We'll assist in establishing a Program Management Office and a Cloud Center of Excellence for quality assurance and continuous improvement. Your staff will be able to monitor your entire landscape from a single pane of glass, making it easier to identify problems proactively before impacting business operations.
Post-Migration Phase
Where we finally get to enjoy the fruits of our labor. However, to ensure long-term success and continuous improvement, there are five key components in a successful cloud implementation post-migration:
Monitoring—we'll help you choose the right monitoring solution to keep track of all aspects of the new environment from a single pane of glass, taking into consideration trade-offs between performance and cost
Distribute Talent—handle any unforeseen situations with confidence by ensuring you have knowledgeable staff with the right skills around services and on-premise applications, and fill in any gaps as necessary
Leadership—Appoint a Program Management Office and Center of Excellence to ensure long-term success and continuous improvement working alongside your migration factory
Migration Factory—Build migration momentum with the right teams, tools and processes to provide the right measures with proper documentation to share with other lines of business in your organization before migration occurs and to avoid slippage
Enterprise Support—Tap into the knowledge of your support team, who often provide priceless technical information and guidance to avoid common pitfalls and avoid mishaps
You don't have to handle a cloud migration on your own. Put Speridian's tested three-phase cloud migration approach to work for you, including our extremely knowledgeable resources, to ensure your digital transformational success and reduce your IT spend.
---
Let's work together on your journey to the cloud.
Contact us to get started on your cloud readiness assessment.