When it comes to marketing, historical data is a great driver for strategy and planning, and staying a step ahead of consumer trends and desires is the only way to remain competitive. Today, with Big Data and Artificial Intelligence, marketers have powerful tools at their disposal than ever before. Increasingly, marketers are embracing the opportunities that these advanced technologies are providing by processing data at scale to make better decisions. Predictive analytics in marketing is the next level of using data for marketing success.
So, what is predictive analytics in marketing and how does it help the marketers to stay ahead of the curve?
Read Speridian insights on: Predictive analytics in Healthcare
What is predictive analytics?
Predictive analytics is the process of determining the probability of future outcomes by combining the insights generated through various datasets with the help of statistical models, machine learning, etc. Predictive analytics can help you transform the way your business operates.
Manage Portfolio Risk using Predictive Data Analytics
Predictive analytics in marketing
Predictive analytics in marketing is the use of current and historical data with techniques like predictive modeling, data mining, and machine learning to analyze various customer data sets for the purpose of developing predictions. It helps marketers decode past buying habits and projects future buying habits. In short, predictive analytics in marketing is the process of using analytics to develop accurate forecasts of future customer behavior.
Benefits of implementing predictive analytics in marketing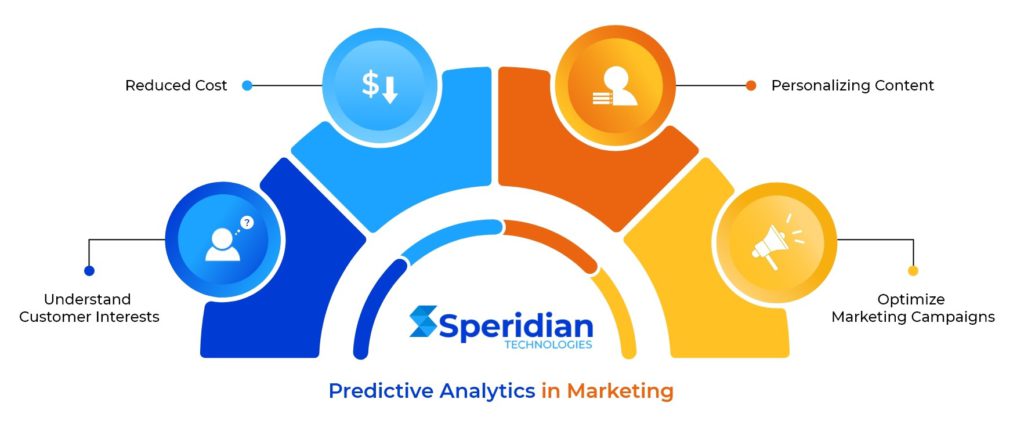 Understand customer interests
With the help of predictive analytics in marketing, marketers can understand customer interests and behavior based on past interactions. This allows them to segment the customers based on their behavior, demographics, firmographics, interests, or any other variables. This way, marketers can find patterns that make the most sense for business and thus can improve consumer experience and brand loyalty.
Optimize marketing campaigns
Predictive analytics enables marketers to determine what customer segments and the audience will be the most effective to reach and create actionable insights, equipping them to serve individual's targeted messaging at the right time on the right device. This helps you accurately tell whether a campaign was successful and gives you room for optimization.
Reduced cost
With predictive analytics in marketing, you can take the historical data of each customer and find the Customer Lifetime Value (CLV). This tells you how much a customer is worth to you throughout the entire span of your relationship with them. You can use this insight to set budgets for customer acquisition and where to focus your ad spends.
Personalizing content
By predicting customer behavior and building models off that data, you can personalize your content to target those certain customers. Predictive analytics in marketing tells you exactly which type of content works better for certain leads. This way you can target the right audience at the right time on the best channel.
Predictive analytics in marketing is driving many businesses to success and is only going to get bigger. At Speridian, we understand how to translate organization-wide data into actionable insights and use business intelligence and data analytics for developing an enhanced marketing strategy. Speridian's expertise in technologies like the Internet of Things (IoT), Machine Learning (ML), Artificial Intelligence (AI), Advanced Predictive Analytics, and Cloud empowers customers to leverage the latest and greatest in analytics for improved decision making to uncover new opportunities.
Read Speridian insights on: