Salesforce, the global CRM leader, recently acquired Slack to incorporate the power of Slack with Salesforce customer 360 to allow teams to connect and get tasks completed efficiently. Nine out of ten businesses are strategizing to offer remote and onsite work in the future, but only 33% are confident they are prepared for a hybrid work model. Before permanently offering remote and onsite work, organizations want to ensure employees are engaged, remain productive, and can communicate with other team members.
Salesforce Customer 360 is a CRM platform that offers a holistic view of customer information to business units. Slack is a workplace communication tool for messaging with individuals or groups, storing and sharing files, and using other tools and apps. Businesses can solve the hybrid work challenge with Slack-First Customer 360, a solution that empowers users to connect, collaborate, and evaluate information directly from Salesforce.
With the Slack and Salesforce integration, every department can now work collaboratively using Slack channels. Team members can communicate and work more effectively using streamlined processes and better access to customer data from Salesforce Customer 360. Slack-First Customer 360 is a single platform that provides users with a centralized location for completing work and finding the information they need.
How Slack-First Customer 360 Maximizes Productivity
Pairing Slack with Salesforce Customer 360 improves information exchange and production efficiency. Here's how Salesforce users can benefit from it: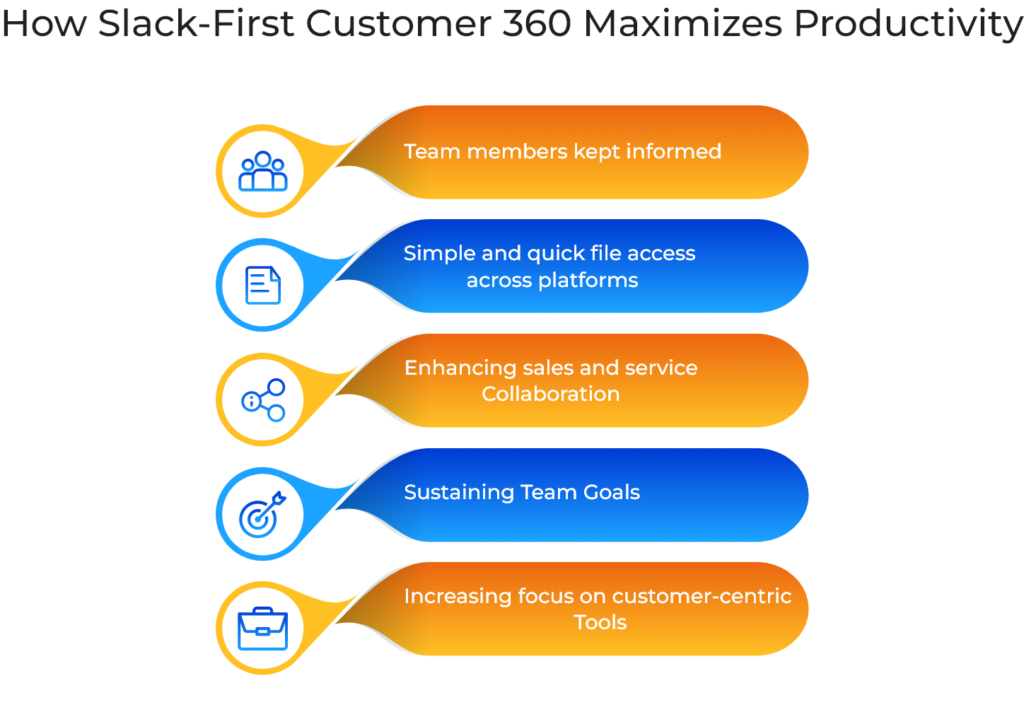 Team members are kept informed
With the integration of Slack and Salesforce, teams will no longer miss any information updates in Salesforce. Sales and service representatives can receive personally tailored notifications from Slack in real–time.
Simple and quick file access across platforms
Team members can lookup and preview all Salesforce records associated with accounts they are handling, prospects, or new cases without leaving Slack. Adding a team member to a channel or discussion simply requires tagging them in Slack.
Enhancing sales and service collaboration
Slack makes collaborative communication possible and can be used to share information from Salesforce with colleagues. Users can share information with particular individuals and specify where it's being shared. Any Slack-based discussions can be saved in Salesforce, allowing any critical data pertaining to an account or a case to be found.
Sustaining Team Goals
Slack keeps team members on track to achieving important goals with seamless workflow processes, channel-based communication, and easy file sharing. Real-time collaboration is attainable when users can identify valuable information from Salesforce records via Slack and work together on team goals.
Increasing focus on customer-centric tools
Salesforce helps team members focus on customer growth and retention with customer-facing tools thanks to the acquisition of Slack. The areas between customer support and private communications are constantly overlooked. There is indeed a huge potential here, as the merger of Slack and Salesforce addresses this challenge significantly.
Conclusion
The Slack and Salesforce integration allows team members to communicate, collaborate, and share information effectively. This will help businesses navigate a hybrid work model and support remote and onsite work. As we approach 2022, Salesforce will be pushing their Slack-First solutions, so it is essential to be familiar with how to utilize it to the fullest.
Speridian is a Salesforce consulting partner and a trusted leader in custom application development, implementation, driving transformational experiences with Salesforce solutions. Our proven CRM approach to Salesforce.com offers a unique combination of specialized horizontal services along with vertical expertise, innovation, and data-driven performance to solve the most complex business challenges of our clients.
Contact Speridian to learn how we can help you get greater ROI with Salesforce.
---
Photo by Alex Kotliarskyi on Unsplash