Salesforce is a CRM that helps people manage their contacts, leads, and opportunities. It's also the perfect tool for managing your customer relationships and projects. But the best thing about Salesforce CRM is that it was designed with sales in mind. It has all the features and functions you need to close more deals faster and is a great solution to the age-old problems businesses face – how to increase sales.
Salesforce can help you overcome many common sales challenges such as:
Understanding how prospects buy
Identifying hot leads
Effectively qualifying prospects
Recording an overview of what happened during a meeting
With Salesforce, these challenges are easy to solve because of the tools built right into the platform that make closing deals easier. Here's how you can use Salesforce to increase sales and overcome the most common sales challenges.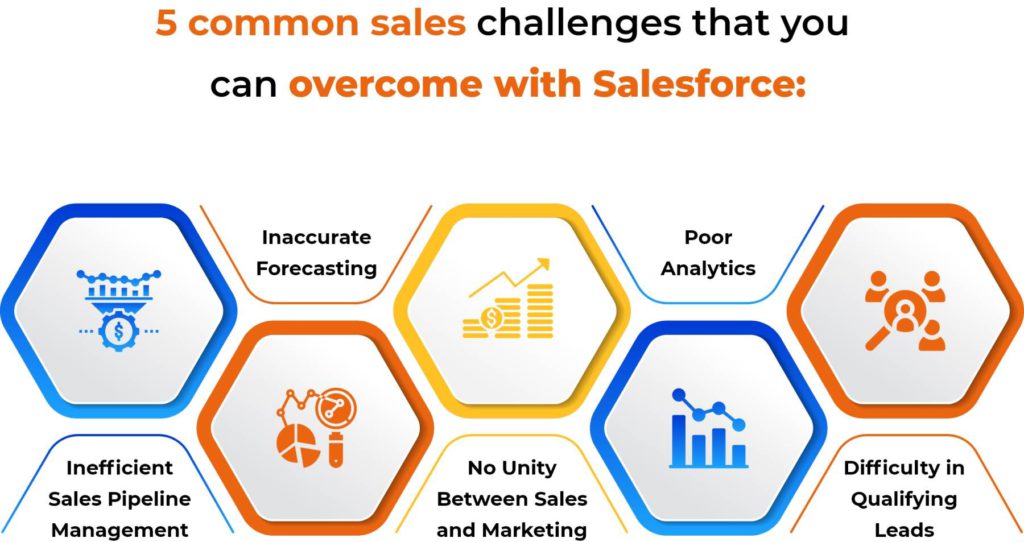 1. Inefficient Sales Pipeline Management
Without an efficient process to manage your sales pipeline, knowing whether a potential client is right for your product or service is difficult. The sales team may be asking: Who is in charge of scheduling calls and meetings? What action should we take now? This uncertainty can make your sales team lose business opportunities.
Salesforce sales cloud has a feature called Analytics Cloud, which offers predictive analytics capabilities that drive better decision-making across marketing, sales, service delivery, and more. Analytics Cloud helps you identify your most valuable customers from an early stage so you can focus on what matters most to them.
2. Inaccurate Forecasting
As a business owner, you know that the best way to maximize your profits is by forecasting future sales. Salesforce CRM helps organizations make better decisions about which opportunities they should pursue and which ones they should pause or abandon. Forecasting also provides valuable insights into where demand may be down the road. But unrealistic forecasting leads to inaccurate targets and ultimately hampers your process and results.
A feature called Salesforce Forecast analyses historical data and provides you with accurate and credible forecasts. It helps your sales team accurately predict sales revenue to make forecasts tailored to your business needs.
3. No Unity Between Sales and Marketing
One of the most common sales challenges organizations face is poor coordination between sales and marketing teams. The success of any product or service greatly depends on the unity and alignment between sales and marketing working together to build excellent customer relationships. Only if both teams are in sync can your organization excel in sales.
With Salesforce CRM, sales and marketing departments can now stay updated and work together seamlessly with access to real-time business data and customer information.
4. Poor analytics
Analytics is an integral part of any business and the reason why relying on spreadsheets is not sufficient anymore. Spreadsheets are prone to errors and hard to analyze with unreliable results from large datasets. You need powerful analytics that propels your business in the right direction.
Salesforce CRM has powerful analytics features that help your sales team gain important customer insights. You will be able to explore and analyze data to get the exact information your need. With the insights obtained from Salesforce, you can quickly resolve issues, mitigate risks and make better business decisions.
5. Difficulty in Qualifying Leads
Qualifying leads is one of the most common sales challenges because it can be difficult to determine if a prospect is a good fit for purchasing your product or service. You will save time and resources by only pursuing the leads that are most likely to make a purchase.
With Salesforce Pardot, your sales team can segment and target prospects and customers, generate leads, create marketing campaigns, and measure campaign performance. You will also have access to powerful features like landing pages, contact management, email automation, and more!
Salesforce CRM is a powerful system that can help you streamline the sales process and help you on how to use it to increase sales. With features and functions for managing the sales cycle, using Salesforce can contribute to your long-term business growth.
However, implementing Salesforce on your own can be a big headache. You will need to allocate time, money, and resources into the implementation process to get it right. As a certified Salesforce consulting partner, Speridian can help with everything from installation to training. Not only can we help your business optimize Salesforce, but with our expertise on Salesforce managed services, we can also maintain and add new features to accommodate your growing business needs.
Interested? Contact Speridian to get started optimizing Salesforce.