Salesforce is presently making headlines for being a powerful CRM system that helps businesses with proper account planning, effective campaign management and monitoring, and the ability to offer first-rate services to customers. As a result, businesses have greater productivity, client satisfaction, and development. In this blog, we'll take a glance at how artificial intelligence (AI) in Salesforce transforms businesses to grow and thrive in today's modern data-driven world.
Adding AI-driven functionalities to Salesforce can help businesses remain competitive over their counterparts. The global revenue for artificial intelligence (AI) software is expected to reach $62.5 billion in 2022, a 21.3 percent increase from 2021. AI provides businesses with greater insights from data, optimizes routine tasks, improves productivity, as well as delivers tailored user experiences, leading to higher customer satisfaction, improved sales, and better cost savings.
Salesforce Einstein is an artificial intelligence (AI) tool integrated with Salesforce's Software-as-a-Service (SaaS) CRM. It collects information about users and provides Salesforce customers with predictive, natural language (NLP), and deep learning abilities. Salesforce Einstein learns by analyzing the actions of its large user base to continue improving its capabilities and providing users with a more accurate assessment as it learns.
Here are five ways artificial intelligence in Salesforce assists businesses to flourish: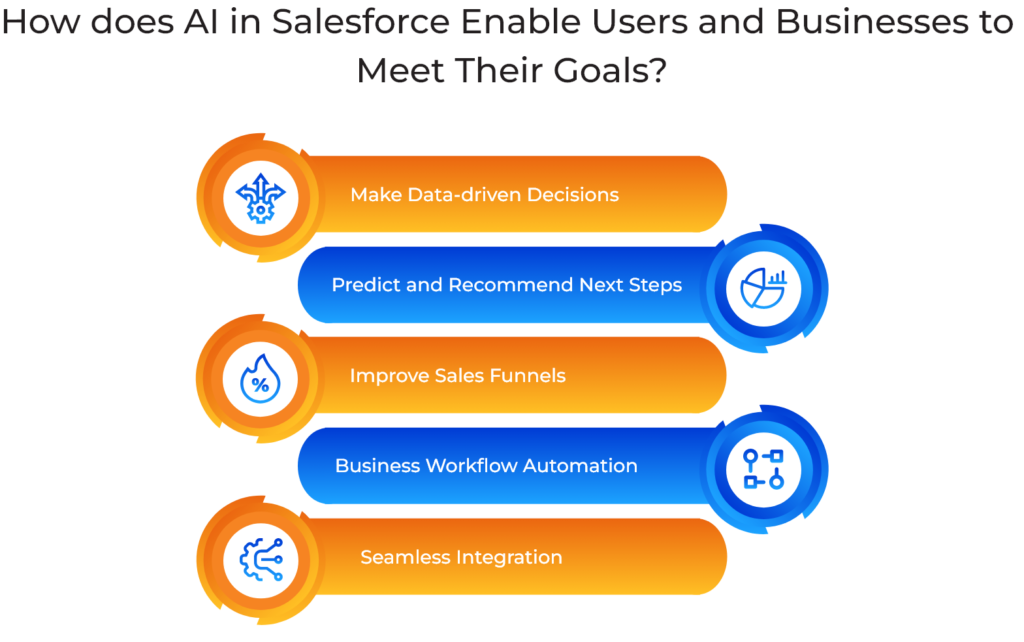 1. Make Data-driven Decisions
Decision-making and information processing are two crucial aspects of any business. Businesses are inundated with massive amounts of data continuously. The inability to analyze and gain insight from data means businesses can't make strategic decision that could help them grow.
Companies worldwide want to use information efficiently as it helps them achieve their tasks quicker and remain competitive. Artificial intelligence in Salesforce helps them obtain a holistic overview of their information, enabling them to make quick and incisive decisions.
2. Predict and Recommend Next Steps
Businesses want to remain competitive and agile, but predicting the future and foreseeing what is to come is a challenging task. AI helps with the collection, handling, and analysis of data relating to business operations. AI can predict results, endorse the next steps effectively, and help businesses maintain a competitive edge.
3. Improve Sales Funnels
Lead nurturing is vital for converting marketing leads into sales. A recent study states that 79% of marketing leads aren't converted to sales due to a lack of lead nurturing. Salesforce supported by AI can predict which customers are likely to purchase a product or who is most likely to engage with a marketing campaign. This allows businesses to optimize lead generation, improve sales, and boost revenue.
4. Business Workflow Automation
Trying to manage routine tasks can be laborious, but choosing to ignore them is also unproductive. Automation powered by Salesforce Einstein solves this issue by automating routine tasks that enable businesses to significantly reduce human involvement, making processes more efficient and cost-effective.
5. Seamless Integration
Unlike most other CRM systems that take a huge amount of time to be implemented and configured, it's easy to add Einstein AI-powered functionality to Salesforce without intensive programming. Einstein seamlessly integrates with Salesforce and can be customized based on the needs of a business.
Conclusion
Artificial intelligence in Salesforce greatly enhances the operational efficiencies of businesses, empowering them to achieve their goals. AI in field service can digitize work cycles as well as efficiently streamline the process from planning to customer interactions.
Speridian is a leading Salesforce consulting partner focused on providing consulting services that assist our clients with optimizing Salesforce. Speridian's custom application development services can configure Salesforce Einstein with your CRM to meet your business goals, improve efficiency, reduce costs, time, and effort.
Contact Speridian to learn more about the intelligent AI of Salesforce Einstein.
---