The current pandemic has accelerated digital transformation in the healthcare industry and has enabled the implementation of many technology-fueled solutions that have lacked the necessary circumstances to prove their value. These advanced solutions are enabling healthcare ecosystems to improve processes and perform more efficiently by providing a broad range of solutions operational efficiencies to analytic capabilities that are increasingly necessary in a world with such little predictability. One such latest technology that is accelerating the transformation of the healthcare industry is the Microsoft Cloud for healthcare.
What is Microsoft Cloud for Healthcare?
Microsoft Cloud for Healthcare harnesses the power of the Microsoft cloud by combining the capabilities of Microsoft Azure, Dynamics 365, Microsoft Power Platform, and Microsoft 365 to improve the healthcare journey. It not only provides the healthcare industry with a suite of new tools designed to help them recover from the COVID-19 crisis but also brings together trusted capabilities to customers and partners that improve patient engagement, team collaboration, decision-making, and operational efficiencies. Both Speridian and Microsoft believe that this platform delivers automation and efficiency to healthcare providers, as well as offers deep data analysis for structured and unstructured data.
Benefits of Microsoft Cloud for Healthcare: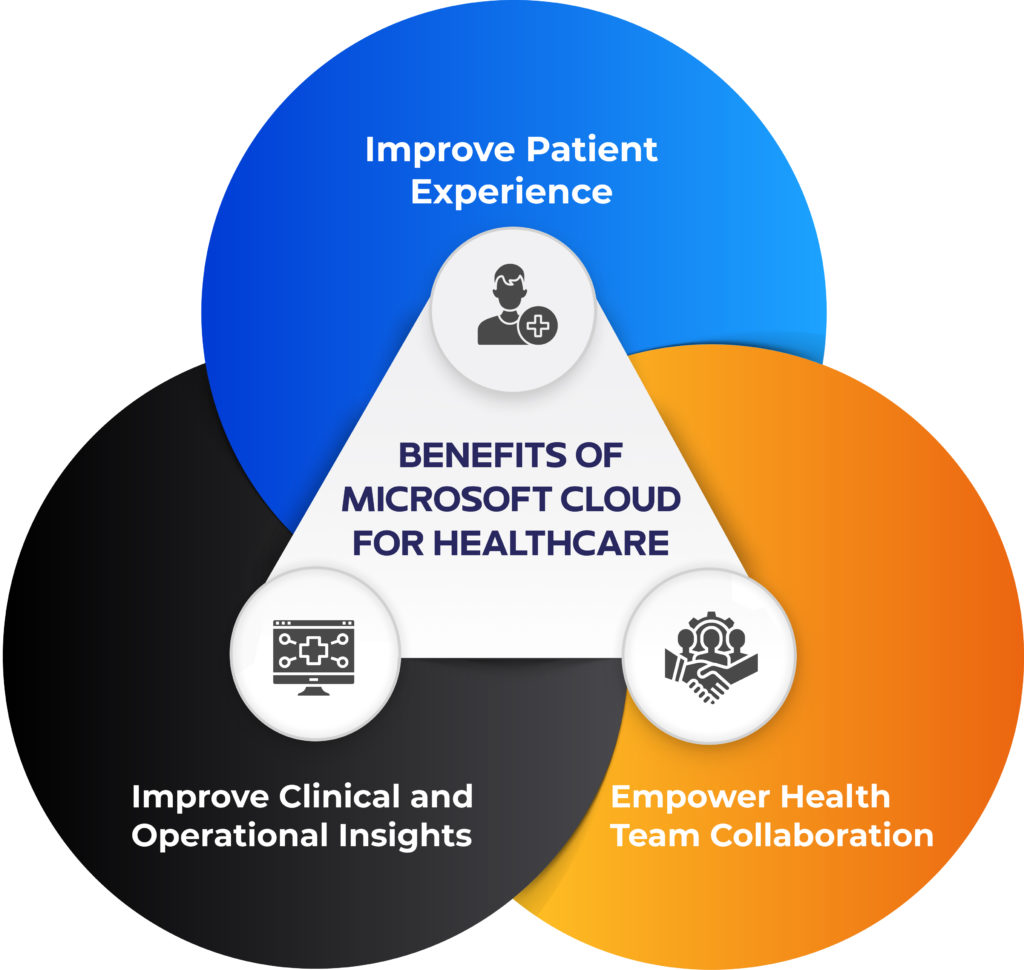 Improve Patient Experience
With the help of the Microsoft Cloud for Healthcare platform, you can quickly and efficiently set up a patient access portal and respond to the latest crisis demands by leveraging the "out of the box" crisis management template. Enabling this direct patient interaction with your health teams has the potential to simplify routine tasks and increase patient satisfaction and enable care transparency. Speridian can help your healthcare professionals:
Organize and automate marketing and patient outreach
Monitor and manage patient interactions and communications
Simplify appointment scheduling
Empower Health Team Collaboration
Collaboration is a crucial part of efficient healthcare management. Care teams need to be able to collaborate more efficiently in a secure, real-time environment to address the various patient issues. Microsoft Cloud for Healthcare empowers teams to collaborate and share knowledge in a single secure place, thus brings in enhanced collaboration features. This enables healthcare professionals to:
Quickly create, personalize and present new care plans for patients
Schedule "in-home" doctor visits for patients
Schedule virtual visits
Improve accuracy and timeliness of schedules, documents, tasks, etc.
Improve Clinical and operational insights
The Healthcare industry produces a staggering amount of data each day and most healthcare organizations continue to face a variety of challenges with their data. Microsoft Cloud for Healthcare enables the secure and reliable electronic access, exchange, and use of electronic health information for patients, healthcare providers, and health plans. It also provides tools for analyzing clinical and operational data for reporting, predictive analytics, and ongoing quality improvement enabling healthcare professionals to:
Access and securely share actionable data
Gain actionable insights to optimize operations and answer critical business questions
Gain data interoperability by leveraging owned data and external data sources
As a Microsoft Gold Services Partner with 11 Gold Competencies, Speridian provides deep expertise helping organizations leverage the Microsoft Cloud for Healthcare platform from planning, design, and strategy to implementation and support services across multiple verticals of the healthcare industry. We help you harness the full power of Microsoft Cloud for Healthcare and equip you with the best solutions to address the most pressing challenges that the healthcare industry is facing today.
Image by PublicDomainPictures from Pixabay