Robotic Process Automation tools – Trends to Watch in 2022
The 2020s are the decade where automation will be at the forefront of driving business transformation and performance. Most enterprises will be opting for Robotic Process Automation (RPA) solutions to help them achieve their digital transformation goals in the next few years. Robotic Process Automation tools are expected to help enterprises improve business outcomes by automating processes that are repetitive, rules-based, and require human intervention.
Below are some RPA trends that will define the ongoing year and be prominent in 2022.
Enterprise Resource Planning (ERP) and Customer Relationship Management (CRM) Integrations
RPA tools can create a long-lasting impact by accelerating transformation across a business. A lot of organizations have integrated their CRM and ERP tools with RPA solutions. This helped boost their performance and provide a seamless experience to their customers.
Additionally, integrating RPA tools with non-IT systems like accounts payable, human resources, and financial management applications helped minimize errors, maintain data accuracy, and improve data visibility. Other non-IT systems with RPA integrations can include Salesforce automation, customer support, and event management systems.
Integration of Artificial Intelligence
Among the many uses of RPA, one is automating cognitive computing by applying Artificial Intelligence to Big Data Analytics, allowing real-time response to changing customer demands without human intervention.
It is a multidimensional approach integrating artificial intelligence, machine learning, and cognitive computing to derive actionable insights from Big Data.
In the following year, we will see more enterprises opting for RPA tools to automate professional services like legal processes, financial analysis work, or medical diagnostics. These services would be less effective without AI-driven cognitive computing tools that are capable of learning, evolving, and responding to changes in the dynamic environment.
The introduction of social robots is another valued addition. These are chatbot software designed to act like humans using tools like voice synthesis, text-to-speech algorithms, and learning from social connections. Social robots can help companies train chatbots or even automate customer queries by portraying themselves as humans.
Focus on Data Privacy
RPA tools can be built to follow strict privacy and security protocols. They can be non-invasive and customized to the specific process with limited or no access to any other part of the organization.
RPA tools can help companies ensure that their data is secure and they don't need to hire large teams of cybersecurity experts. It ensures businesses stay compliant with the strict GDPR and other privacy laws around the world.
Further developments in RPA tools will work towards achieving higher levels of protection against cyberattacks. The tools will be developed with strong encryption protocols and incorporate the latest technologies to protect data while automating operations.
Cognitive Business Process Management (CBPM)
A natural step in RPA technology, cognitive business process management is the next big thing that organizations are looking to leverage. This approach combines RPA with cognitive technologies like artificial intelligence, machine learning, natural language processing, and cognitive computing.
One of the examples of CBPM is the introduction of chatbot software. These are intelligent software agents that can help users perform tasks like answering questions, providing information, responding to queries, and even negotiating on behalf of an organization.
With new technological advancements, these chatbots will become more intelligent over time. They will also become more capable of having conversations with users and learning from the context.
Robotic Process Automation – A way forward
Robotic process automation is a gamechanger in the automation space. With its potential to transform business processes, RPA helps companies achieve higher levels of performance and cost-efficiency.
Going forward, robotic process automation tools will play a crucial role in creating intelligent business processes by leveraging newer technologies like artificial intelligence, blockchain, and natural language processing.
At Speridian, we offer automation solutions and custom application development services for companies of all sizes to help them benefit from this promising technology. Speridian is committed to helping companies automate their business processes to improve efficiency, reduce costs, increase profits, and more.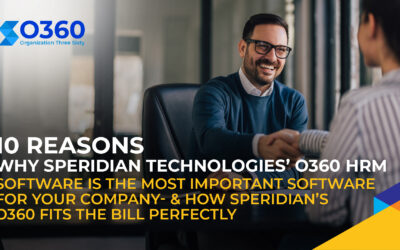 In today's digital age, the use of software and technology has become essential for businesses to operate efficiently. One software that has gained...