Nonprofits are constantly looking for ways to reach more donors and are faced with a variety of challenges when it comes to marketing. Salesforce Marketing Cloud has emerged as the perfect solution for nonprofits seeking to grow their organization. Salesforce lets nonprofits create personalized marketing campaigns that speak to prospective donors and volunteers in targeted ways. Here is why Salesforce Marketing Cloud is the perfect fit for nonprofits.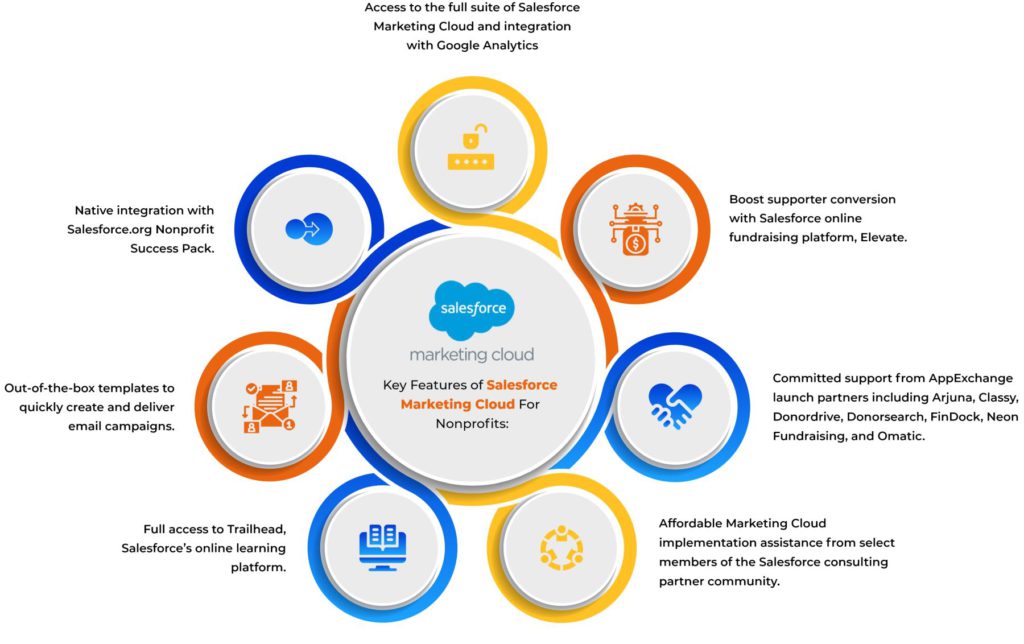 Why is Salesforce Marketing Cloud The Perfect Fit For Nonprofits?
1. Build Email Campaigns With Ease
One of the important features of Salesforce Marketing Cloud for Nonprofits is out-of-the-box email templates for campaigns. Nonprofits can build highly personalized and timely email campaigns to target prospects using the built-in templates, saving you from having to create new email designs from scratch. This way you can send personalized emails to both individuals or mass audiences.
2. Target and Engage the Right Supporters
Salesforce Marketing Cloud for Nonprofits lets you collect data, analyze, and find suitable prospects or the most engaged donors within your database. It can also provide you with rich insights into donor preferences and behaviors across multiple channels. Salesforce Marketing Cloud also integrates with Google Analytics, so you can easily create and modify content based on analytics.
3. Greater Transparency
Transparency is an important element in any nonprofit organization, especially where there needs to be accountability at every level with donor management and financials. Salesforce Marketing Cloud integrates with accounting and ERP systems for centralizing data, and offers better reporting and analytics, increasing transparency as a result.
4. Drive Continuous Engagement
Salesforce Marketing Cloud for Nonprofits comes pre-loaded with tons of features like donation management capabilities and event management tools to help you stay connected with subscribers and convert them into passionate supporters. It also has a dedicated Nonprofit Success Pack that helps organizations track and communicate with people who donate, volunteer, or engage in other ways like attending events.
5. Flexible Pricing
SalesForce offers flexible pricing options that can be tailored to fit your business needs so there's no need to worry about hidden fees or surprise charges down the road. They provide flexible options tailored specifically for smaller charities while still offering powerful tools for marketing campaigns.
Salesforce Marketing Cloud has tools that will help nonprofits grow their audience, convert more prospects into donors, and generate revenue. It's a powerful, yet easy-to-use platform that helps nonprofits amplify their message and engage with potential donors in new ways. As a certified Salesforce consulting partner, Speridian can help nonprofit organizations accelerate their digital transformation by helping them get the most value from Salesforce features. With our digital and cloud technology expertise, and by leveraging our industry domain knowledge, we offer Salesforce managed services that can help you successfully navigate your Salesforce journey.