Customer success is the backbone of any successful company. It's how you turn happy customers into loyal ones and drive referrals for your business. But without a CRM system to keep track of all of your interactions with customers, it's hard for customer success teams to provide the knowledgeable, responsive service that builds trust with your brand. The best platform available to help you if you are facing this problem is Salesforce Service Cloud.
What is Salesforce Service Cloud and how can it help your customer success team? It is a centralized system for storing information about customer relationships and activities in one place. Your customer success team can increase efficiency and help grow revenue with its out-of-the-box functionality and features for managing customer relationships.
Here are a few ways to supercharge your customer success team using Salesforce Service Cloud.
Why Does Your Organization Need Salesforce Service Cloud?
Salesforce Service Cloud is a suite of products to help customer success teams be more efficient by:
Streamlining customer success team processes
Case management with a detailed view of the customer
Automatic routing of cases to the right agents
Email automation
Analytics and performance management
Training and knowledge management
Salesforce Service Cloud gives you a high-level view of customers and enables the customer success team to deliver personalized attention to each customer. Equipping your organization with an integrated CRM improves engagement and customer service standards to drive better user experiences while reducing costs.
Benefits of Using Salesforce Service Cloud for Your Customer Success Team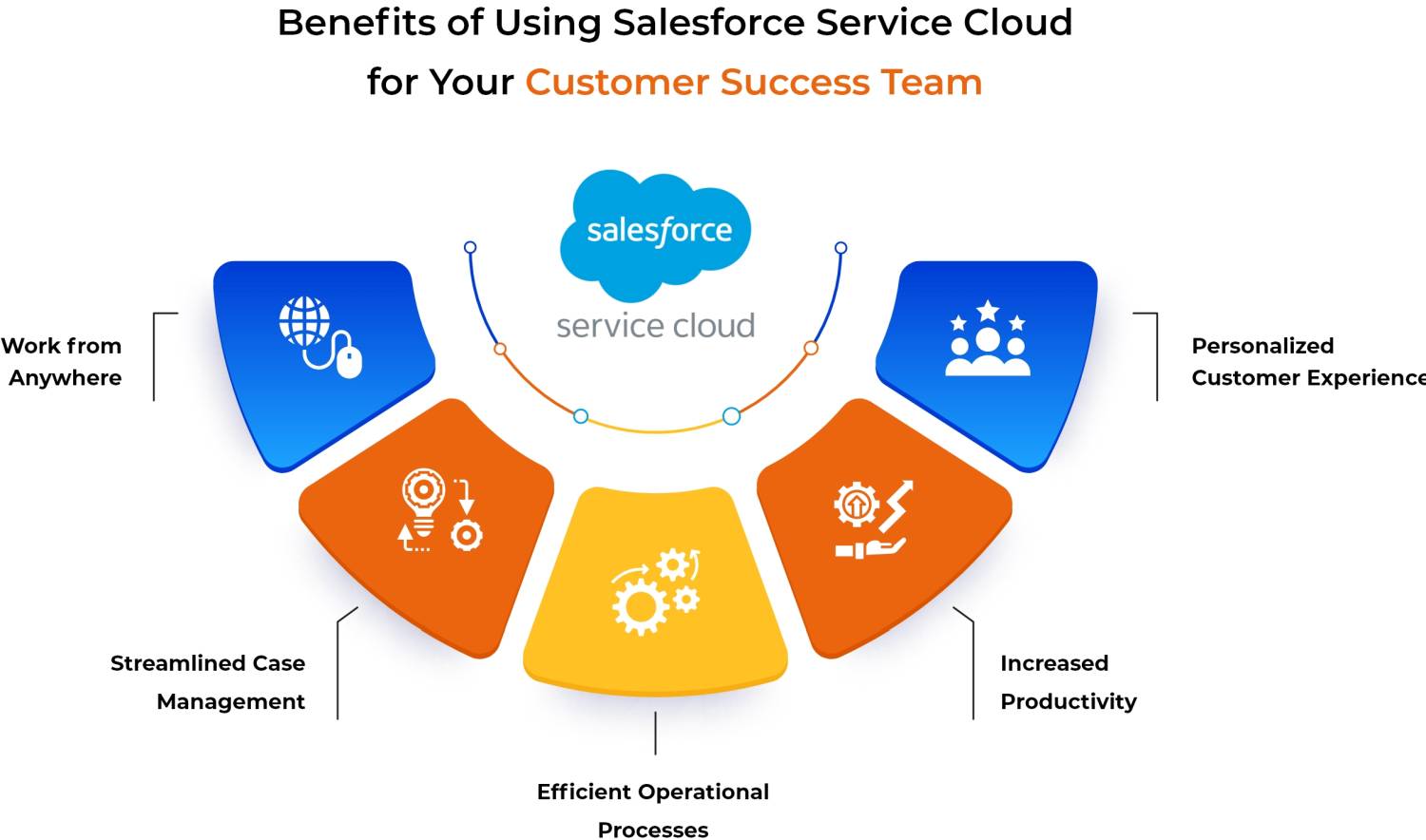 1. Work from Anywhere
With remote work becoming the norm today, Salesforce Service Cloud allows customer success to help customers from anywhere at any time. It also provides for instant logging and reporting of information when a customer calls your business. This easy accessibility allows your agents to serve customers more effectively.
2. Streamlined Case Management
The Lightning Service Console in Service Cloud offers your agents a unified experience by putting all of the customer information in one place. The console, along with the case management feature, enables your agents to resolve cases faster with complete visibility into the customer's history and records. This streamlined case management dashboard will help the agents address customer requirements quickly.
3. Efficient Operational Processes
One of the best ways to keep your customer success team efficient is by managing the workflow. Salesforce Service Cloud has a feature called Omni-Channel Presence and Routing. This feature can help agents prioritize cases and route cases to the right agent with the best skill set to resolve specific issues. Agents can also update their status in real-time, ensuring that all the tasks are completed efficiently and transparently.
4. Increased Productivity
Salesforce Service Cloud helps you analyze empirical data and improve your customer success team's performance, thus helping you customize the customer service process to best suit the needs of customers. It also allows you to customize and automate any customer service or approval process, eliminating the need for manual work. These features help your business save time and make your agents more productive.
5. Personalized Customer Experience
With customers gravitating towards brands that offer a personalized approach, the customization of services is critical. Salesforce Service Cloud lets you analyze and understand your customer with analytics data. The more you know about your customer, the more you can personalize your service. In addition to this, the Social Customer Service feature helps your agents respond to customers quickly when they reach out over social media channels, including Twitter, Facebook, and Instagram.
With customers demanding personalized and responsive experiences, providing better customer service will be an important factor in any organizational growth. Only the organizations that improve how customer success teams work by using tools like Salesforce Service Cloud will see improved customer engagement and retention rates.
As a full-service Salesforce Consulting Partner, Speridian can help you with all your Salesforce Service Cloud needs. From strategy to implementation to support service, Speridian has the depth of experience with all Salesforce managed services. With us as your Salesforce partner, you can scale new heights.